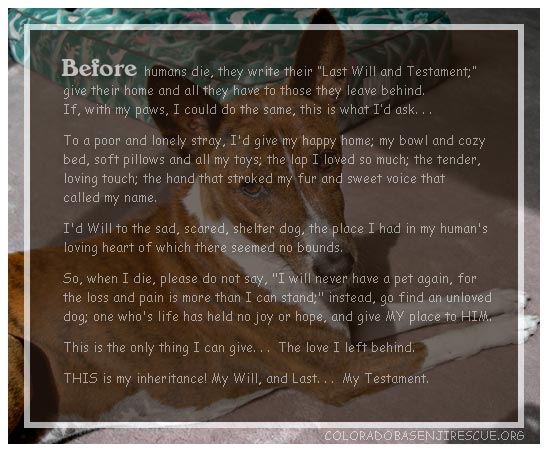 Copyright-Free/Public Domain Image
Here, remembered, are some of the Colorado Basenji Rescue dogs who, before leaving this world, etched a special place on their owners' hearts forever and always...
Flash
We lost our beautiful little boy today. He was truly a gift in our lives that we will be forever grateful for. Flash was a wise old soul. He was a 20 pound physical being that had the spirit of a giant. He lived without fear, forgave quickly and loved every day. He was like a master of living that taught lessons to everybody he loved which seemed to come from knowledge of living a thousand lives. Honestly to know him was to be in a bit of awe of him. We are so thankful for every minute we had with him; he was truly a gift.
Flash arrived at Colorado Basenji Rescue during the summer of 2007 after being found by a hiker in a remote area, emaciated and with a broken leg.
He was adopted that year by Samantha and Wayne, who loved and cared for him until his recent passing in October 2019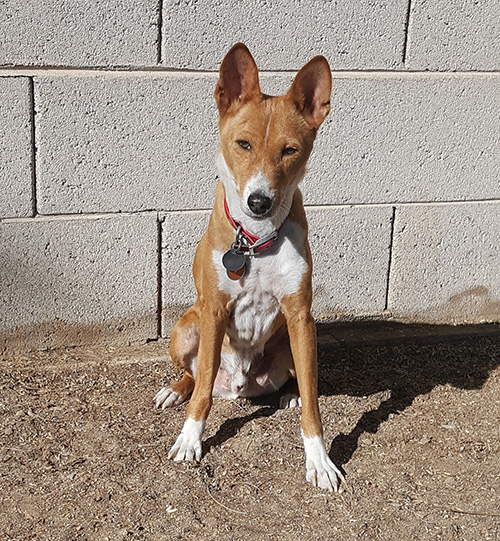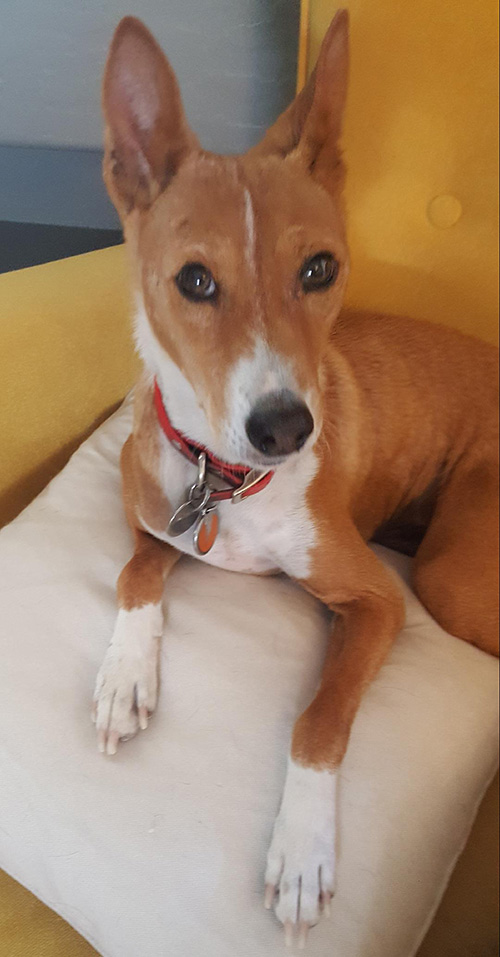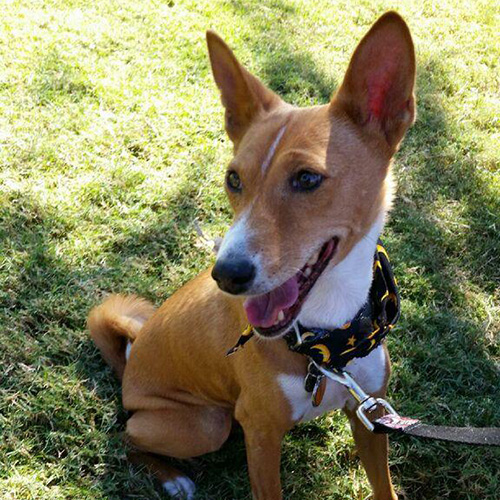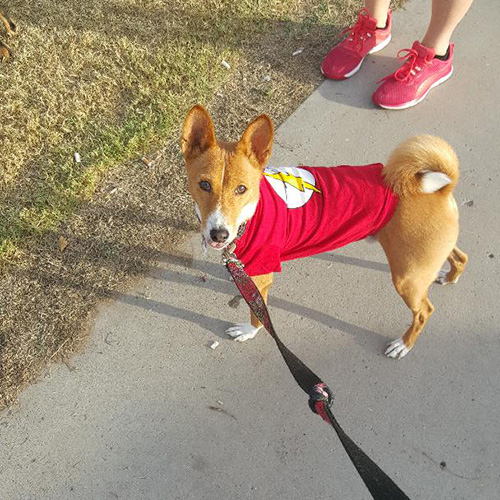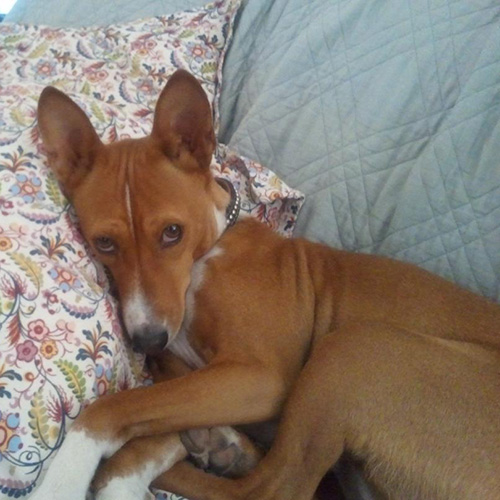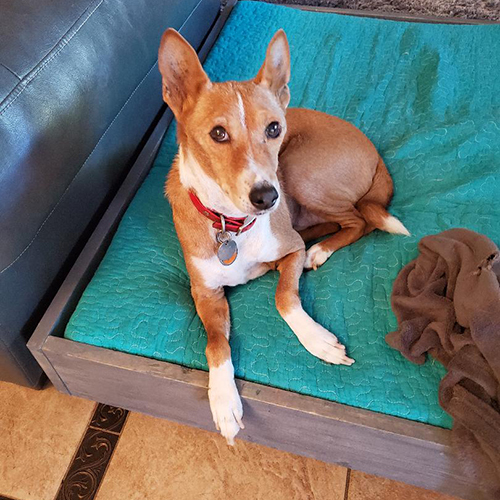 ---
Lucy
Texas Lucy passed away today peacefully at home with her family, just short of her 17th birthday. For nearly 14 years, she has been a constant companion and added so much to our lives. We can little imagine life without her and will miss her desperately.
She was a good dog.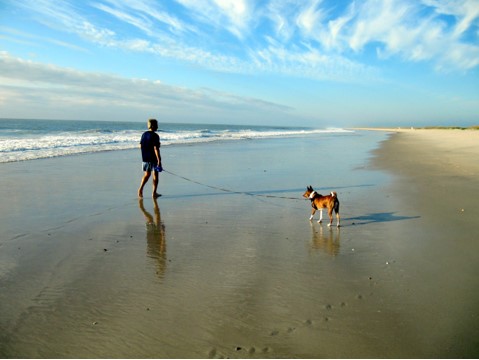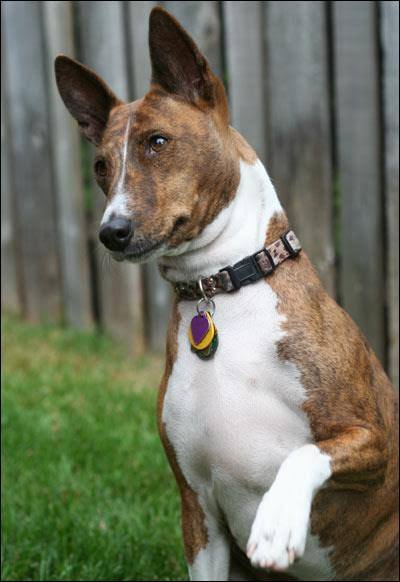 ---
Dixie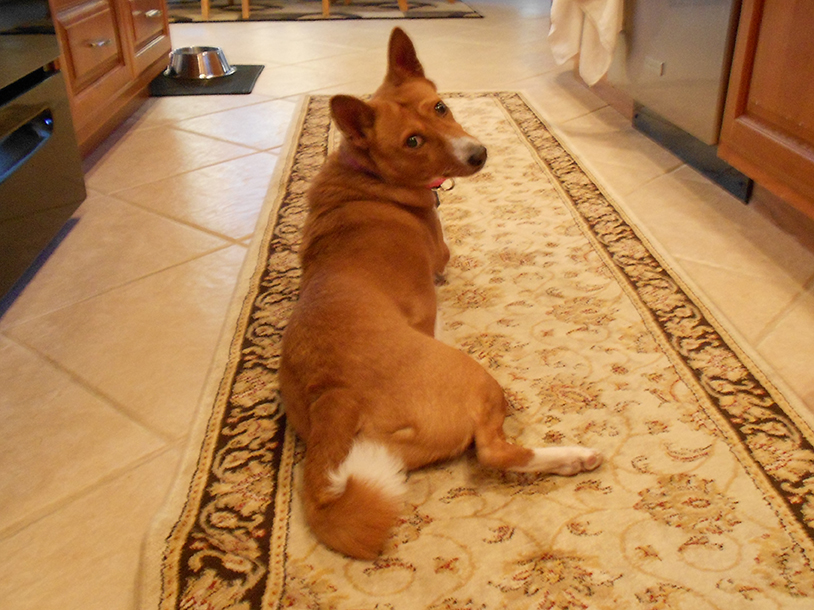 To DIXIE, my dearly loved Basenji.
Today marks 2 months since you left me and words cannot express how deeply I love you and miss you. You were my 7th Basenji as my history with Basenjis dates back to 1973. But let's reflect for a moment to a day about 7 1/2 years ago when CBR brought you to my home. It was December 1, 2011, and I remember like it was yesterday the first time I saw your beautiful face and thick, tightly curled tail. How beautiful you always were.
You had a rough beginning and thankfully CBR had rescued you from the Colorado Springs H umane Society where previous owners had left you. I was determined to give you a wonderful life and believe I always did that during the years we were together. I remarried a year or so after you came to live with me. You and I both recognized in my
new husband that he was indeed a caring, loving man. He loves you and misses you as much as I do. We moved twice while you were with us but you readily adjusted to a new home, even as your eye sight began to fail. We always accommodated you with a doggie door and easy access to the yard.
As the years passed we controlled your seizures with medication and made life as comfortable for you as we possibly could. My husband cradled you in his arms the day you left us and my last sight of you was your perky ears peeking out of the blanket that covered you. W e miss your footprints on our carpeting, but for the rest of our lives we will keep your footprints on our hearts. You were, and are, deeply loved our precious Basenji, Dixie.
..... Eileen and Scott Kerkoski....
---
Sarah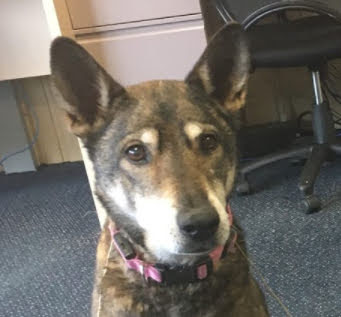 Hi, this is Kristin Day. I adopted, basenji-mix Sarah, from you...maybe 2004/2005? Well, sadly, just about a month ago she crossed the rainbow bridge, and she is dearly missed. Sarah-Bear as we called her, was a very loving, kind and loyal dog. Most recently she lived up in the mountains of Summit and Lake counties with us, and loved the life of a mountain dog. Sarah loved camping, hiking, and lazing around too! A very special dog came from your organization, and I am so glad to have had her in my life. Much Love, Kristin Day
---
Bentley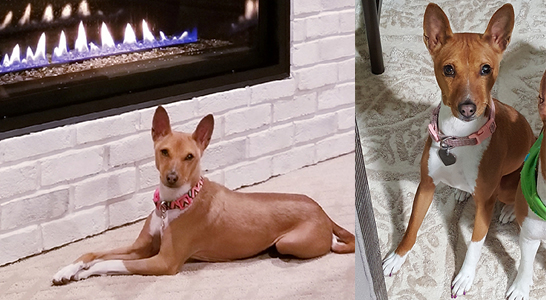 Our sweet little girl, Bentley. You left a footprint on our heart the day we met you, December 31, 2010. You've left a void in our hearts with your passing and short 7 years with us. 

We know you fought a good fight, Bent. And, the cancer eventually took a toll on your little body. We think of you every morning when the sunrises, casting sunrays through the trees and onto the deck knowing exactly where you would be. 

Run with the sun our little girl. Your spunky and playful personality will be in our hearts forever. 

We love you very much-

Carlos, Kyle and Benz 

---
Callie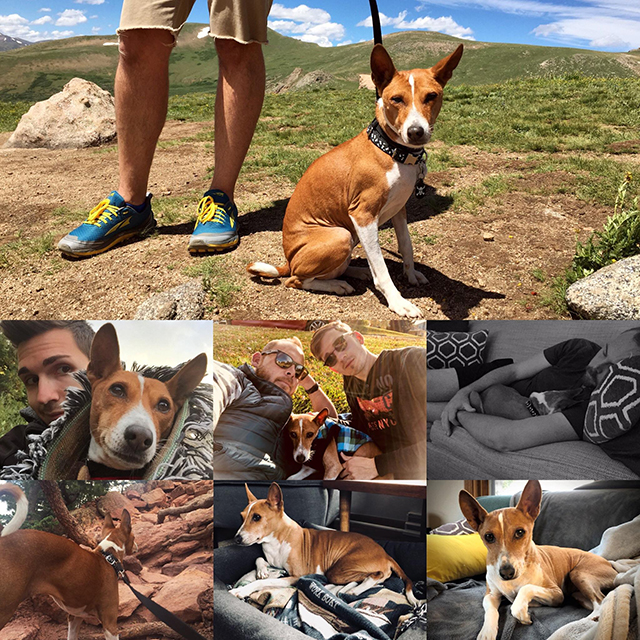 Bambi
Sadly we had to say goodbye to sweet Bambi after a long battle with Fanconi.   Bambi had been doing well on the Gonto Fanconi protocol until mid summer of 2016 when her kidneys took a downward turn.  In spite of all the medical care provided, she was unable to rally and passed away peacefully on the morning of January 21st.  She is missed by her foster family and all at CBR that knew her.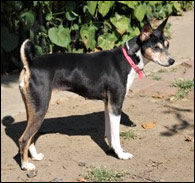 Tessie
We had to say goodbye to our sweet little Tessie girl in January. When Peggy brought her to us in 2006, we were just going to foster her, but that didn't happen. Tessie gave us one look with those " flirty" eyes and we were hooked. She has always been a sweet girl, not requiring anything but love from us! She was very quiet, never " yodeled", or made many sounds, but she was a great companion and we miss her terribly.
She went deaf the last year and a half of her life, and it might have been due to the mass of unknown origin behind her eye, that was found in January, plus she had a mass in her adrenals, as well. She never complained and she adjusted to the hearing loss . She lived her last few weeks with her little basenji brother, Niko, looking after her and getting lots of special attention . She brought us such joy and taught us about how sweet basenjis can be. Run free, sweet Tess with your " brothers, Cowboy and Lance at the Rainbow bridge.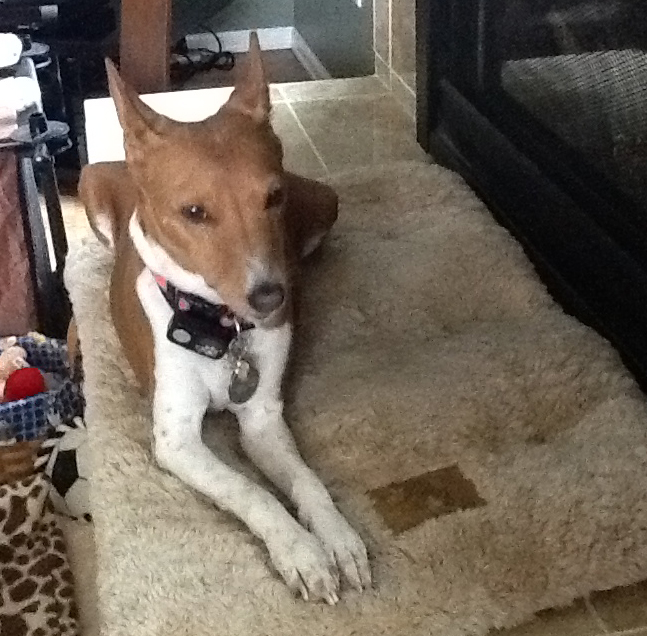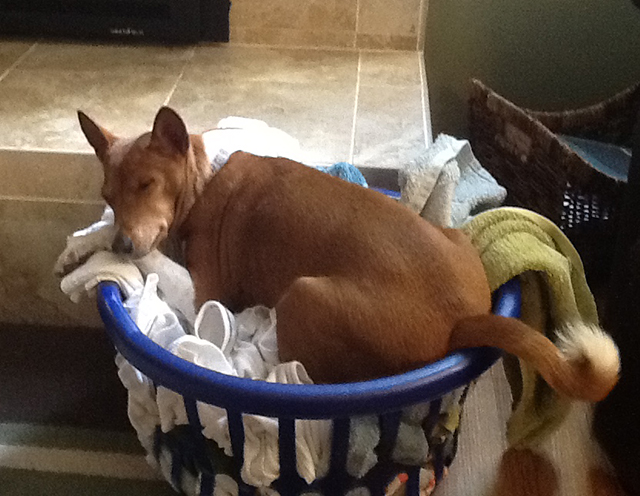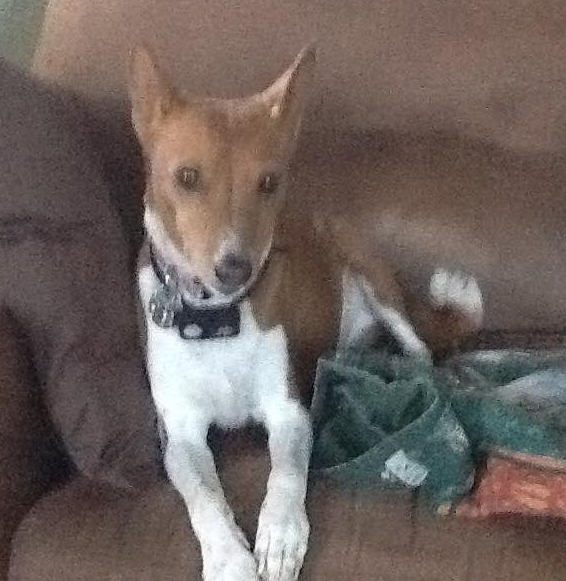 ---
Mila (Milo)
On November 11, 2016, I lost Mila (formerly known as Milo) to cancer. It broke my heart - she was with me for only about nine months. I felt that we were just getting started together.

Rest peacefully, my sweet Mila-girl. I miss you❣️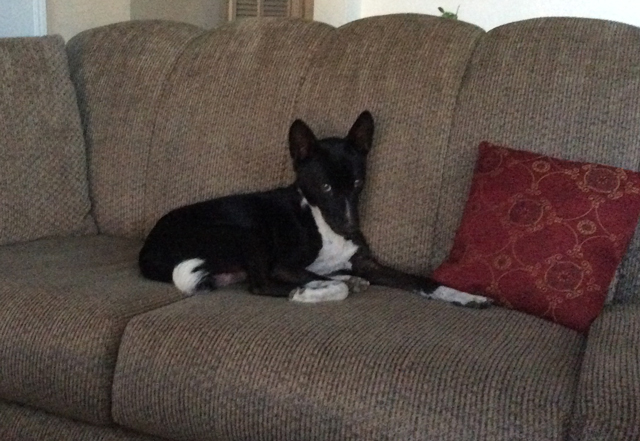 ---
Allie
On Monday last week, after 13 years of giving us her love, loyalty, and protection, Allie finally let me know that it was time for her to leave us. It was truly the saddest day of my life. Allie was more than the BEST dog, she was truly my BEST FRIEND.  Since I work from home, Allie and I were together 24/7. We had so many great adventures together. So many walks. So many mountain bike rides. So many bunnies/squirrels chased.
 
I can't thank you enough for bringing her into our lives. 
 
The first picture was taken on the night I brought her home from your house. The second picture was her last day on earth. She and I ate triple cheeseburgers on the patio. 
 
BEST DOG EVER!!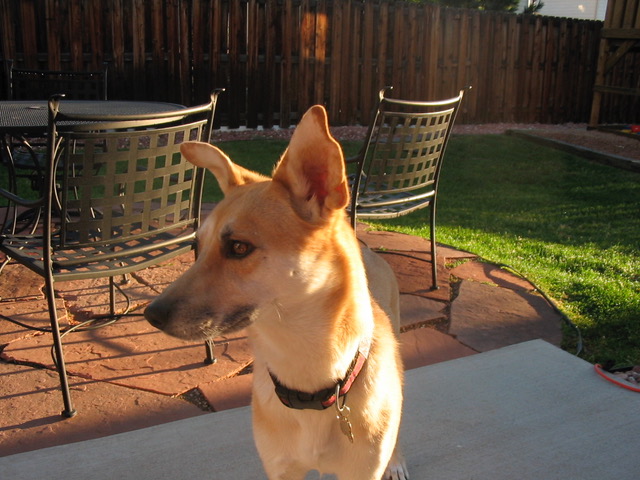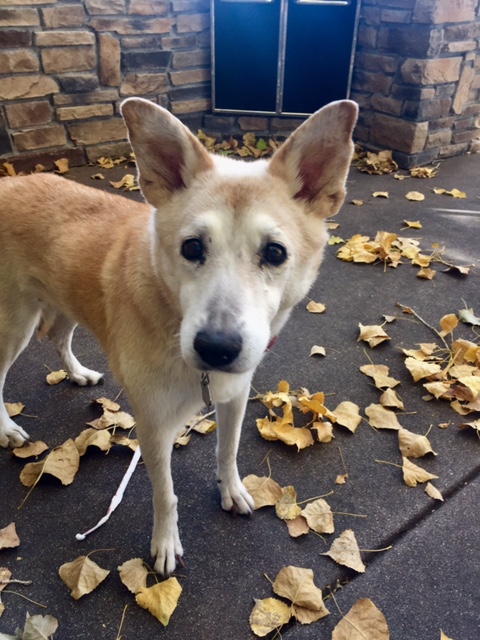 ---
Bao Terry (November 28, 2006 - June 21, 2016)
Bao was complicated, loving, affectionate, sensitive, and caring. Bao allowed very few people to pet him, but those he allowed in were his treasures. If you were one of those people he trusted, you had the best friend you could imagine. He did not merely twitch his tail for those he loved, he wagged his whole body. He loved to sing when he greeted us. HIs favorite place was anywhere he could find a sun puddle. I miss and love you Buddy, and cannot wait to see you on the other side of the Rainbow Bridge. I hope you and Karma found each other and are together again. Dad loves you both.

 

---
Karma Terry (December 13, 2005 - August 1, 2016
Karma was just shy of her 11th birthday when she crossed the Rainbow Bridge. She graced our lives for 10 years and is missed so very much. Karma was affectionate and kind to everyone (human and canine). She never met anyone she did not like. At the same time, she was brilliant, determined and head strong, exuding confidence and character. If I had to pick one word to describe my wonderful, sweet girl, it would be regal.  No day goes by that I do not miss her, especially that beautiful yodel she gave me each time I came home from a trip and her gentle kiss each morning. I still reach for her in the morning. Karma — you will live in my heart for the rest of my days.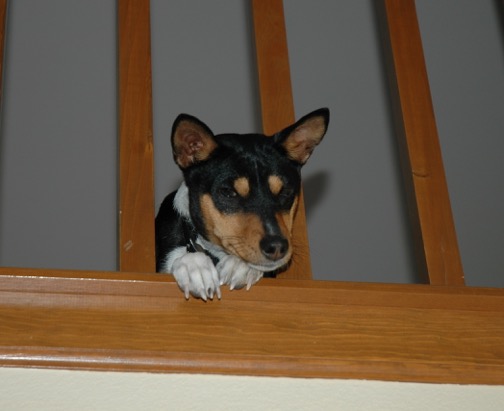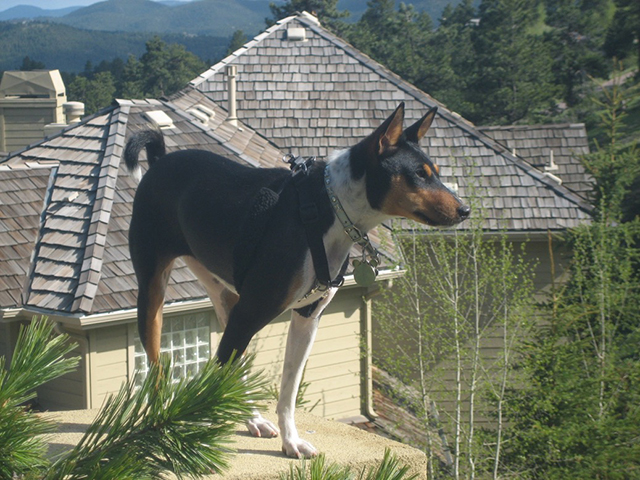 ---
George
My Papa Bear, George, came to me from Colorado Basenji Rescue in 2007 - the first dog that was truly my own. He had been a stray, so his birthdate and past were unknown, but he found his way to my heart and Forever Home. I was so blessed to have this gentle yet mischievous character in my life! He was diagnosed with Fanconi Syndrome in March 2010 and survived 5.5 years with this terrible disease. But now he is free! No more infections, medications, pain or suffering! He peacefully crossed the Rainbow Bridge in December 2015.
---

Oreo

We were so lucky to have Oreo in our lives since adopting him in December 2003. He was a remarkable guy - kind, loving, funny and smart. He and I got through the loss of my husband together, and I'm sure they are back together again. Oreo crossed the rainbow bridge February 23, 2015 at the age of 15.

---

Indie

Indie was adopted at the age of four by Kristen and Jesse, and was loved deeply by his humans and adopted Basenji sister, Roxy. He crossed the Rainbow Bridge in the fall of 2014 at fourteen and one-half years of age.

---

Skinner

Our dear Skinner left us in January 2014; two days shy of his 14th birthday. He came to us in 2007 from CBR and we were so honored to have him as an important part of our family for the past 7 years. A sweet, loving dog, with "warm eyes" and a loving heart, he will be a part of our lives forever, and we will miss him very much. We are so glad we were able to provide for him and love him. He enriched our life so much.

Robyn & Dan

---

Tiger was the best co-pilot a man could ever have!

---

Denzi

Angel

Both Denzi and Angel were loved by the Center family, Ken, Lara, Ian and Quinton. Angel was adopted from Colorado Basenji Rescue in August of 2012 and had the best year of her short life with the Centers. She passed away from Fanconi Syndrome in August of 2013.

Denzi lived with the Centers from 1995-2012. He was 17 years old.

---

Kiki

Kiki was adopted by Mike and Shelley in 2007. They shared 6 years together until her untimely death from an intestinal mass. She crossed the Rainbow Bridge on June 29, 2013 at 9 years of age.

---

Keno was the loved Basenji of Cynthia and Dave for 13 years.

---

Kyro was the loved Basenji of Cynthia and Dave for 13 years.

---

Kona was loved by Mary and Kyle for the last 10 years of her life. She crossed the Rainbow Bridge at age 15.

---

Here is a photo of Cody who passed away recently at the age of 15. He was loved by his owner Shannon Smith who adopted him from CBR a number of years ago.

This is Bushbaby, owned and loved by Leslie Lord and her husband Suha.

This is Frank, adopted by Joan and Dave. Frank passed away at 16 1/2 years.

This is Poochie, adopted by Yvette and Mary Kimball. Poochie recently crossed the rainbow bridge at age 14.