Meet Barney!

Barney is a 22month old male Basenji, full of energy and ready to explore the world.  As a "Covid puppy", borne November 28th of 2019, he was barely starting his training and exposure to the outside world when the country went into lockdown.  His family had just started Barney in puppy classes which ended abruptly due to the pandemic. 
Although isolated for the past year and a half, Barney shared his home with two loving parents and two children.  He does not do well left totally alone and will complain loudly (and "loudly" is an understatement!) when his humans leave the house.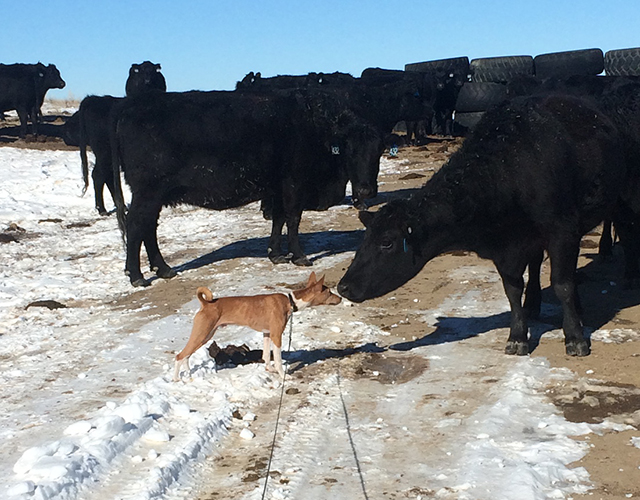 During his time with his original family, Barney suffered intermittent bouts of diarrhea which his family found difficult to deal with.  When he arrived at Colorado Basenji Rescue he was tested for GI issues with the Texas GI panel, as well as a detailed Superchem panel and fecal exam.  All tests came back perfectly normal.  Barney has had only one incident of digestive distress during his time at CBR and we are assessing his past gastrointestinal issue as due to the excitement of being a young puppy in a busy home environment.  However,  new home should be prepared to deal with the possibility of occasional GI issues.
Barney is very bright and has learned the commands "sit", "down", "roll over", "crawl", "hug", "leave it", "find it", and stay.  These commands will need a refresher course with his new family.  Continuation of a basic training class is strongly advised.
Barney weighs 24.4 pounds, is neutered, microchipped, and current on all vaccinations. 
The best home for Barney will be one with another canine companion, and a family with the time and motivation to take Barney to training classes. 
For more information about Barney you may contact Peggy at (303)455-8216 or inquiry@coloradobasenjirescue.org
There is an adoption fee of $375 for Barney
---
Rickie

Rickie is a young brindle male Basenji eager to find a forever home.  Due to the Covid-19 restrictions, Rickie has spent the first year plus months of his life in a lockdown situation with little contact with anyone outside his original home.  In his current foster home he is making gradual progress in meeting people, going on walks, and tentatively exploring his new world.  His foster mom reports that, although a bit skittish of his new outdoor environment, he is becoming more confident each day.
Rickie is crate trained, although he does cry a bit when left alone in his crate.   In Rickie's words, ( translated from Swahili,) "I am crate trained and 100% housebroken, no accidents in the house, ever!  Because I am a" foodie", my training is easy. I work for treats,
enjoy a stuffed Kong, Nylabones, and a game we play with muffin tins and tennis balls, took me no time at all to figure that one out!  I am still a little skittish in my new environment when outside, but every day I become more confident and want to explore further!"
Rickie is affectionate and loves to snuggle on the couch with his human, and demands daily belly rubs.  He has recently had the opportunity to meet and play with a non- dominant  female Visla .  Both dogs enjoyed the encounter with no problems.  We feel that a home with an active respectful female dog would be a plus for Rickie and help in advancing his confidence and social skills.  Rickie will be placed in a Basenji savvy adult home only, or one with teenagers knowledgeable about Basenjis.  He has not had any experience with cats.  Due to one incident involving food and another dog in his original home, he should be fed separately from other dogs. He is fed two meals daily of Nature's Logic beef, in his kennel.
Rickie weighs 21 pounds, is current on all vaccines, microchipped, neutered, heartworm negative, and in excellent health.  He does experience periodically a red and itchy belly but the symptoms are minor and do not appear to be a an issue.
There is an adoption fee of $350 for Rickie.  A potential adopter must be able to meet Rickie prior to adoption.
For more information about Rickie you may  call Peggy at 303 455-8216 (no texting option, sorry) or email to inquiry@coloradobasenjirescue.org
---
Ranger

**UPDATE ON RANGER**  We are in the process of setting up a veterinary visit for a dental, exam, and microchip for Ranger.  Once completed he will be ready for adoption.  Ranger will need a home as the only pet, with a Basenji experienced owner, preferably with a secure yard and an understanding of his discomfort with meeting dogs and people on walks.
Ranger is a 7 year old purebred male Basenji who will be looking for an adopter or a foster- to- adopt-situation shortly.
Little is known about his past as he came to Colorado Basenji Rescue via a local animal shelter with no definitive past owner information. 
Ranger has now been updated on vaccines and is in good general health.  He is neutered and will receive a microchip prior to placement.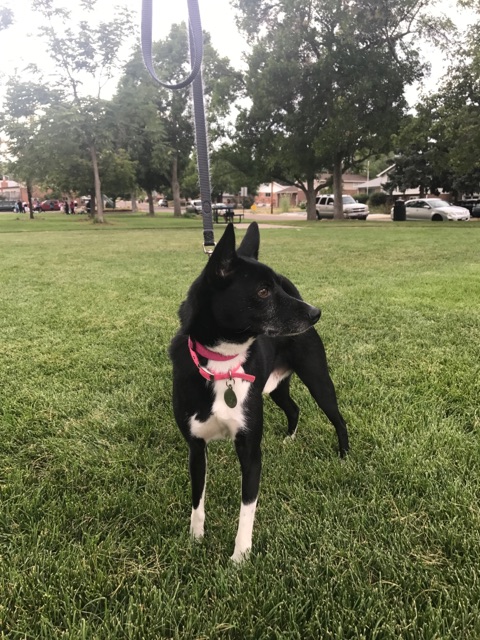 We do know that Ranger does well with his foster mom, her visiting friends, and is comfortable off leash in the house or secure yard.  He does exhibit anxiety on a walk when encountering strange humans and dogs.  He will growl at an approaching stranger when on a leash, but has been able to engage with some of the humans after realizing that they are not a threat.  Ranger will need positive work in this area to reduce his anxiety.
He is well behaved in the house and has no dietary issues. He is food motivated which will help with his leash training when encountering people on walks.  He enjoys relaxing on the couch with his foster mom, and is content to sleep in his pen in the kitchen at night.
He yodels to music much to the delight of his foster mom!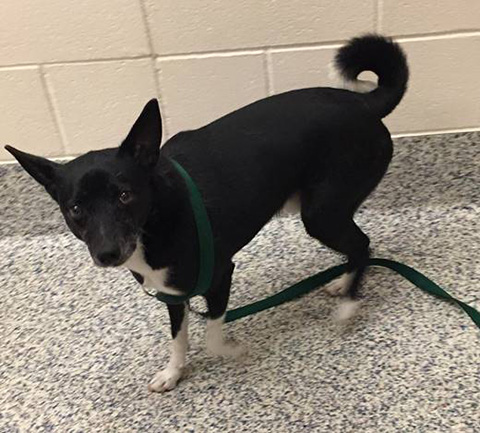 A good fit for Ranger will be a calm adult home where he can be the only pet.  Ranger has been through a stressful time in recent months and needs consistency in his future home while he regains his confidence and trust in humans.  He has no known experience with cats or small children and thus will be placed in a loving adult home.  Local applicants will be first considered, preferably with Basenji or similar dog experience.
 Once Ranger's evaluation has been completed, he will be available for adoption.  In the meantime, for any questions about Ranger you may contact Peggy at inquiry@coloradobasenjirescue.org or at (303)455-8216
There will be an adoption fee of $175 for Ranger
---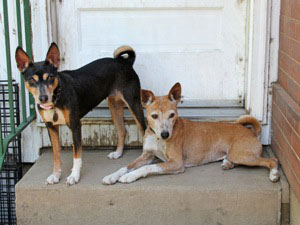 Beautiful Basenji Mixes
Stevie!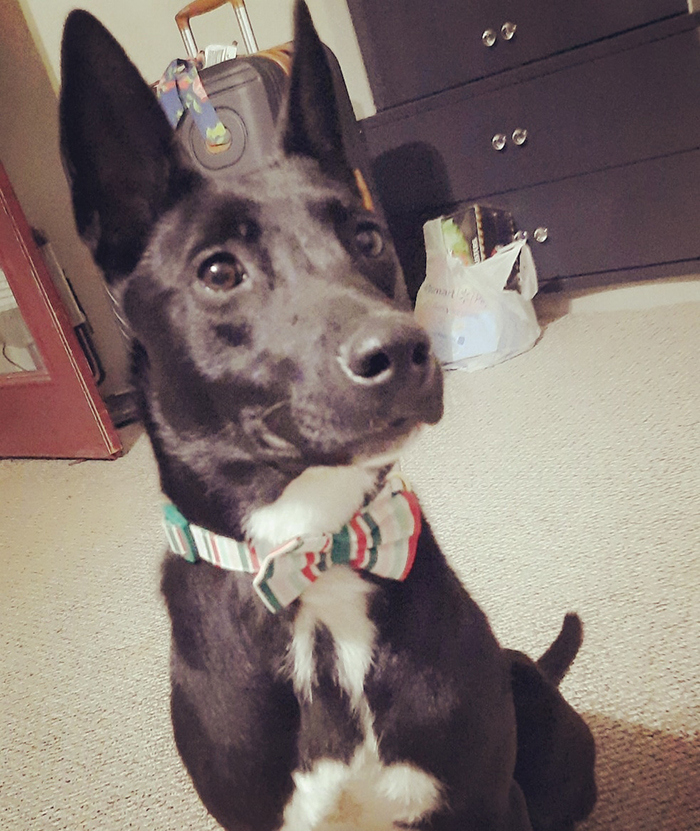 ***
UPDATE ON STEVIE!

We have learned through the recent results of the mixed breed DNA test that Stevie has a substantial amount of Belgian Malinois in her family tree.
***
It is vital that a potential adopter for Stevie does have a working knowledge of this or other similar breeds and will be dedicated to working with her in a positive training program to improve her basic behaviors.  Since Stevie has shown a propensity to lunge and bark at strangers and dogs while on a leash we are starting her in a private training class to begin her education.  We have great hopes for this loving, highly athletic girl!
Stevie is a lovely female mix, full of love and positive energy and eager to find her forever home.
Although she is young (estimated by the veterinarian to be somewhere between 8 and 10 months of age),  Stevie is very focused on humans and eager to please.  She is quick to learn and will be a pleasure to train.  She knows the sit command but needs a basic positive obedience training program to complete her education.  She loves people and currently jumps up on people in enthusiastic but uncontrolled happy greeting.  She weighs 38 pounds so she will be best in a home with no small children that she could knock over.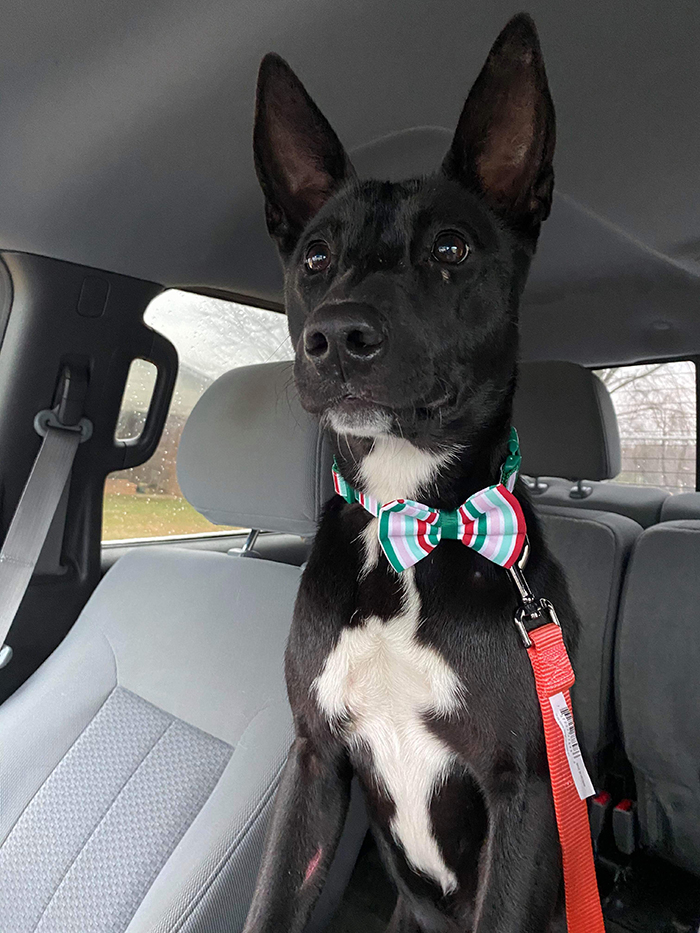 Stevie must have a 6 foot solid fence as she is skilled in effortlessly sailing over lower fencing.  She could live in an apartment setting if the owner is dedicated to exercising her regularly on a leash. A super active young adult could be a good match for Stevie.
Stevie was recently spayed, updated on vaccines and microchipped.  She is crate trained and has never made a potty mistake in her crate.   She loves to chase balls although she is not so eager to give the balls back, instead galloping around the yard hoping to be chased.
She currently eats twice daily Earthborn grain free lamb formula kibble and has no dietary issues.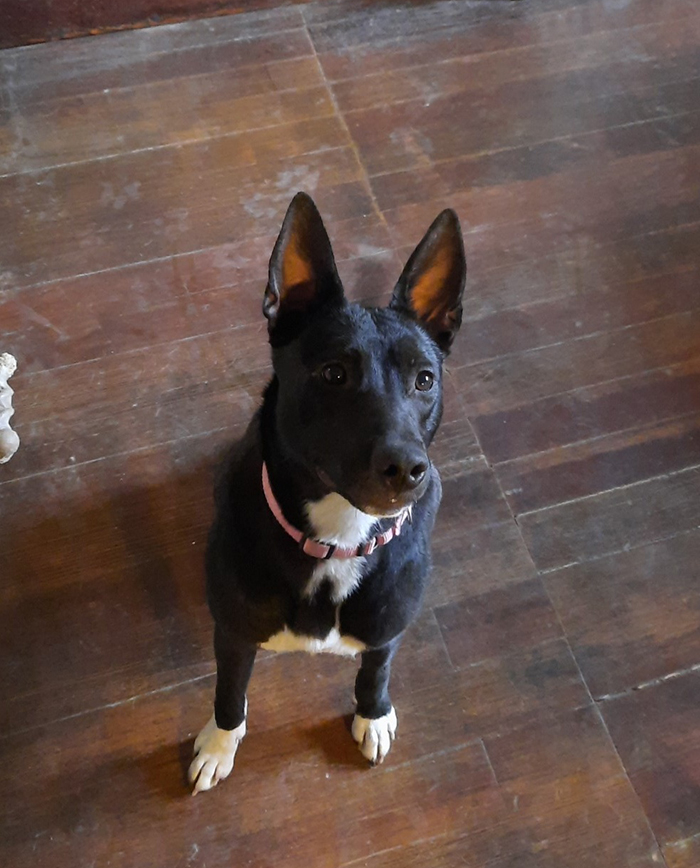 Stevie can bark but does so only if bored  and wanting attention.  She has not been tested with cats but has interacted well with friendly dogs in the past, when properly introduced.
An active owner willing to dedicate the time to further her obedience training and to give Stevie plenty of exercise will be a good fit for this enthusiastic girl.
For more information about Stevie you may contact Peggy at (303)455-8216 or by email at inquiry@coloradobasenjirescue.org
There is an adoption fee of $225 for Stevie