Mia

Hi folks!  My name is Mia.  I'm a bouncy beautiful black and white Basenji ready for a forever home! 
A little bit about my wonderful self…..
I was born on November 29th of 2020 and spent the first year with a very busy owner who loved me but was not able to give me the time needed to devote to such a youngster as me.  Apartment living is not my cup of tea.  I have some training under my belt and have learned "sit", "stay", "lay", "shake", and "high five".  I am eager to continue my education with a family willing to work with me.  I am friendly, love people, especially men but fine with everyone.  I have been around small children and would tolerate well-behaved kids. " Well-behaved" is the key word when it comes to small children.  I did have an incident where a child was poking me with a stick and trying to pull me out from under a bed.  I did react with a bite but not a serious injury, just scary for everybody.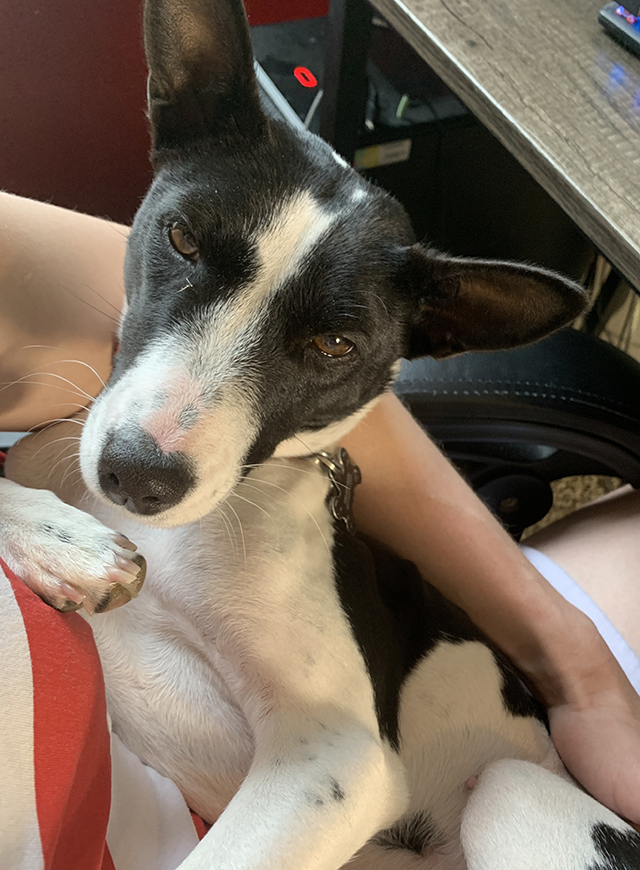 I have been around other dogs and would love a friendly dog companion to play with!
I will need some work with walking on a leash as I am not trained in that skill yet.  My new family will need some patience with me while I work on that skill.
Mia is a delightful and well socialized Basenji and will make someone a wonderful companion as she grows into maturity.  She will need a home with a securely fence yard and an awareness of the Basenji's ability to escape and run if not carefully watched.
 Mia has been spayed and updated on appropriate vaccinations.  She is microchipped.
DNA Fanconi test is pending.  She did receive a complete blood panel prior to her spay and is deemed healthy.
There is an adoption fee of $375 for Mia.
If you feel that Mia is a good fit for your family you may contact Peggy at (303)455-8216 or email inquiry@coloradobasenjirescue.org
---
Red Alert!  Red Alert!
Meet Red, also known as "Ever Ready", " RedMan", and various other terms of endearment!
Red is a 6 year old male Basenji with a zest for life and an affection for people.  He was relinquished to a shelter a few days before Christmas and has been in the care of Colorado Basenji Rescue for veterinary updates and evaluation prior to an adoption.
It is known that Red did not do well with dogs and cats in his prior home, and will be placed in a home as the only pet.
He greets humans well and loves to be petted.  He will launch himself toward anyone seated in a chair or couch and will land in a lap with gusto!
Red is a "sniffer" on walks and will take his time investigating the outside world.  There is no such thing as a quick 5 minute walk with Red. 
Red has had a complete vet exam with bloodwork and is current on vaccinations, microchipped, and deemed healthy.  He arrived from the shelter with a mild case of kennel cough which has since been treated and resolved.  He is neutered.  His initial shelter exam revealed a mild degree of tarter but no immediate need for a dental at this time.  A Fanconi test is pending.
Red does exhibit resource guarding behavior over certain items and "people food".  This behavior was noted by the relinquishing owner and has since been confirmed in foster care.  He is fine with his kibble and dog toys but will react if a person attempts to take a high value item (tv controller, hair ties, etc.) from him.  To address this behavior we advise the human to offer an exchange rather than attempting to take the prized item from his mouth.  This method will avert a negative reaction, growl or bite.  A neat and tidy home also helps keep Red from getting in trouble with items that he should not have!
This resource guarding behavior is his only challenge  (aside from the typical Basenji quirks) to an adopting family, but can be managed with a dog savvy owner.  For this reason Red will be placed in an adult, Basenji savvy home, no children or other pets.
Red is a fun loving Basenji with a lot of love to share with an owner prepared for the typical Basenji challenges combined with the resource guarding issue.
If you feel that Red is a good match for you, please contact Peggy at (303)455-8216 or inquiry@coloradobasenjirescue.org
There is an adoption fee of $350 for Red.
---
Taco & Maggie Update

Update on Taco!!!!
Due to  recent changes in Taco's foster owners lives they will not be adopting Taco.  He is now available to a loving home.
Please contact Peggy at (303)-455-8216 or by email at inquiry@coloradobasenjirescue.org for more information about Taco!
We wanted to share this recent story with website viewers although Taco will soon be formerly adopted after a successful "foster-to-adopt" trial period. ( We were not certain if Maggie would accept Taco, thus the "foster-to-adopt option.)  We are happy to report that Maggie now has an official  live-in boyfriend!
Thanks to Garth and Erik for their careful management of the two dogs during the trial period.
Taco, our foster-to-adopt 6yo brown Basenji has made himself right at home over the last month.  And Maggie, our 13yo speckled Basenji-mix has been very busy showing him the ropes and how things are done here :-)  (We adopted Maggie from CBR 2 years ago and are so glad we did!).
Anyway, there's no free-lunch in Maggie's house. She wasted no time putting Taco to work keeping squirrels out of her backyard and as you can see, she's thrilled to have the help! That's more time she can roll in the dirt and make sure the squeakers continue to work in her toys!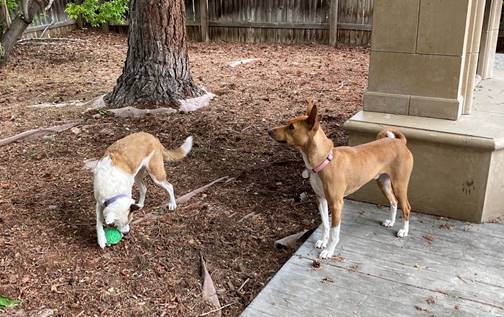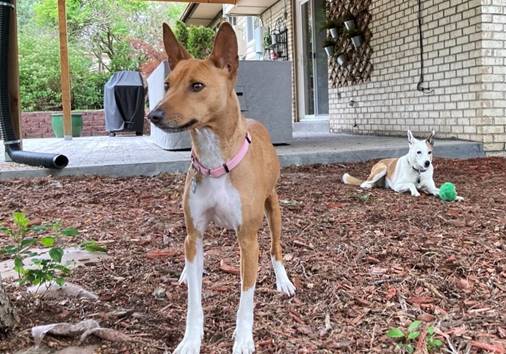 After a long day of patrolling the backyard, they're both quite content to kick back with us in the living room for some couch time!  You won't find better company than these two and Maggie had quite a bit to report to us today!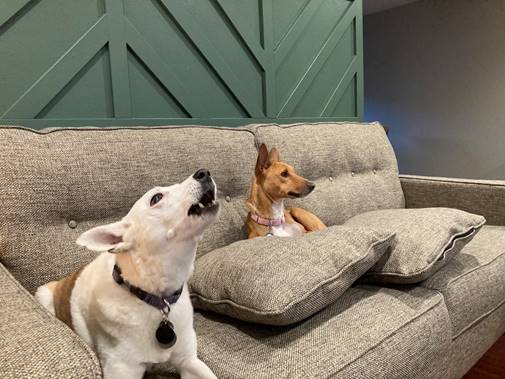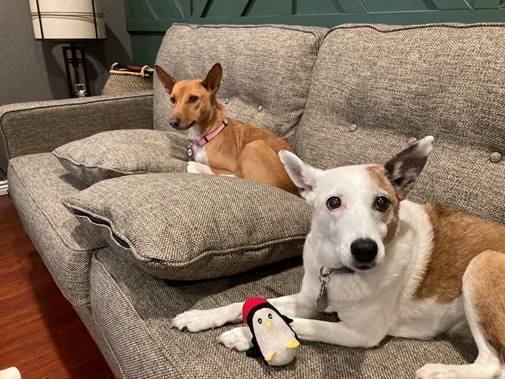 Maggie did take some time to warm up to Taco and we had a bit of a learning curve ourselves understanding the intricacies of managing and fostering a young full-bred Basenji. However, with some patience, training and wonderful support from Peggy, we are thrilled to be formally adopting Taco!  We are so glad to have these two Colorado Basenji Rescue alums as part of family!
Garth, Erik, Taco and Maggie


---
Beautiful Basenji Mixes
Hambone

This is a courtesy posting for Hammy's owner.  Colorado Basenji Rescue has not evaluated this Basenji mix.  An adoption would take place directly between the owner and the interested party.*
He has the coloring of a light brown Chihuahua, but most of his appearance and expressions are Basenji.
His weight is about 16-18 pounds. He is very agile, athletic, trim and in good health. Age is between 1-1.5 year old. He has the adorable signature Basenji frown.
He makes an occasional pseudo-bark, but mostly is a singer which Basenji are known.
He is very loving and a snuggle bug. He immediately accepted our 3 elderly dogs and settles in quickly.
He loves walks and meeting other dogs and people, even very friendly to rowdy children he meets. We have seen no aggressive behaviors whatsoever.
On walks he likes to stop and lay in the grass for a few minutes to watch what's going on around.
He has a high small animal chase drive (squirrels, rabbits, and our 5lb Chihuahua). I expect he would be excellent at decoy coursing or agility.
He knows the commands of Sit, Go to your bed, Down, Up, Go pee pee, but this Stay needs work.
He wants to please and is very trainable. In the short time we have had him he has learned 2 commands.
He is familiar with being in a crate. We have not crated him at night as he settles in quickly and sleeps all night.
He loves his chew toys and playing. He wants to play with our dogs but as they are elderly and fragile we have to not allow it.
He still has some 'puppy behaviors', mostly his energy and desire to play.
He has been neutered and chipped. His short fur is very low shedding.
He is alert and has warned us when someone was in the back yard.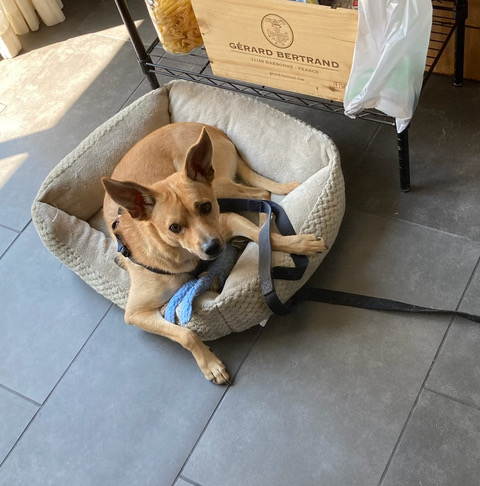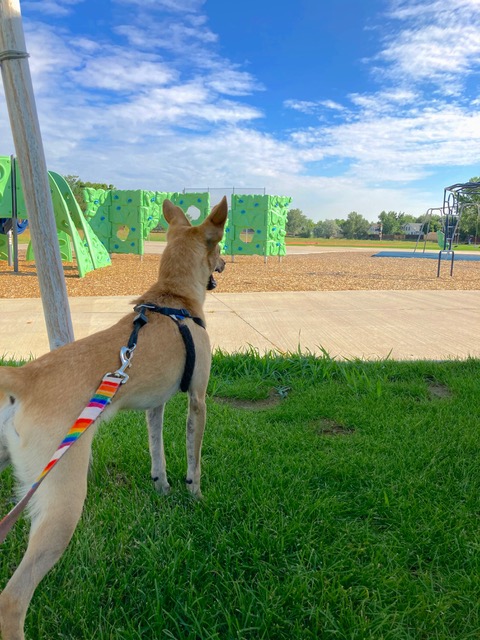 For website contact info and this other phone number.
Contact BJ at (720) 464-3966
Located in NE Denver area
---

Stevie!

***

UPDATE ON STEVIE!!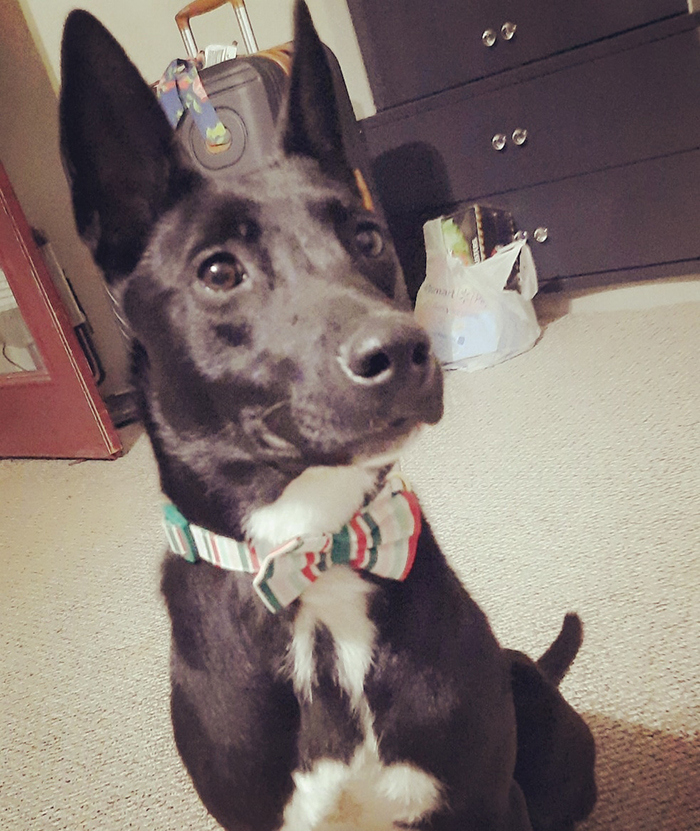 The recent DNA profile for Stevie indicates that she has absolutely NO Basenji in her, in spite of her past veterinary records calling her a Basenji mix.
That being said, Stevie will need an adopter with clear knowledge and experience with the Belgian Malinois and Shepherd breeds.  Stevie is extremely athletic and will require a physically strong person to manage her on a leash.  She is very smart, trainable and eager to please.  She has been through a 6 week training course while at Colorado Basenji Rescue and will need an owner committed to continuing her training on a professional level.  Stevie continues to be reactive to dogs.  She loves people and would be best in and adult home with no other pets.
Colorado Basenji Rescue will fund a training course with a local professional trainer for an adopter who will follow up with Stevie's ongoing education.
***
It is vital that a potential adopter for Stevie does have a working knowledge of this or other similar breeds and will be dedicated to working with her in a positive training program to improve her basic behaviors.  Since Stevie has shown a propensity to lunge and bark at strangers and dogs while on a leash we are starting her in a private training class to begin her education.  We have great hopes for this loving, highly athletic girl!
Stevie is a lovely female mix, full of love and positive energy and eager to find her forever home.
Although she is young (estimated by the veterinarian to be somewhere between 8 and 10 months of age),  Stevie is very focused on humans and eager to please.  She is quick to learn and will be a pleasure to train.  She knows the sit command but needs a basic positive obedience training program to complete her education.  She loves people and currently jumps up on people in enthusiastic but uncontrolled happy greeting.  She weighs 38 pounds so she will be best in a home with no small children that she could knock over.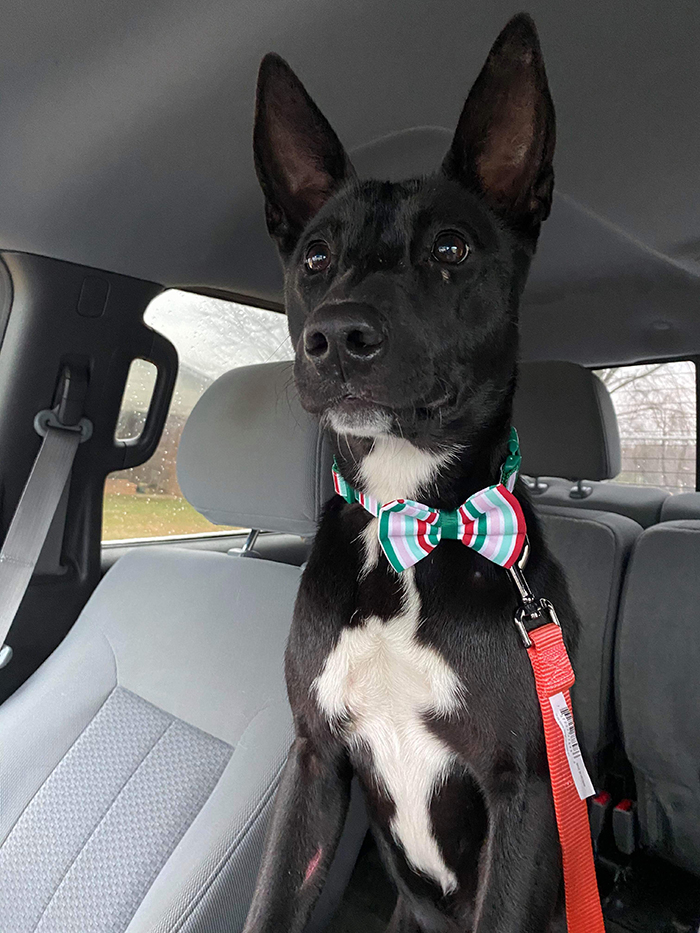 Stevie must have a 6 foot solid fence as she is skilled in effortlessly sailing over lower fencing.  She could live in an apartment setting if the owner is dedicated to exercising her regularly on a leash. A super active young adult could be a good match for Stevie.
Stevie was recently spayed, updated on vaccines and microchipped.  She is crate trained and has never made a potty mistake in her crate.   She loves to chase balls although she is not so eager to give the balls back, instead galloping around the yard hoping to be chased.
She currently eats twice daily Earthborn grain free lamb formula kibble and has no dietary issues.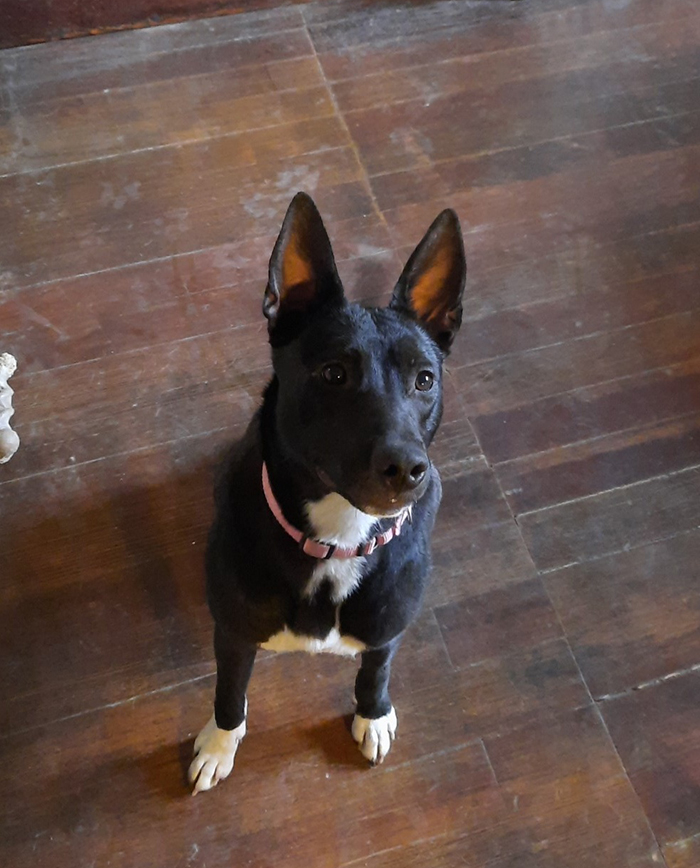 Stevie can bark but does so only if bored  and wanting attention.  She has not been tested with cats but has interacted well with friendly dogs in the past, when properly introduced.
An active owner willing to dedicate the time to further her obedience training and to give Stevie plenty of exercise will be a good fit for this enthusiastic girl.
For more information about Stevie you may contact Peggy at (303)455-8216 or by email at inquiry@coloradobasenjirescue.org
There is an adoption fee of $225 for Stevie