Hi, I'm Cleo!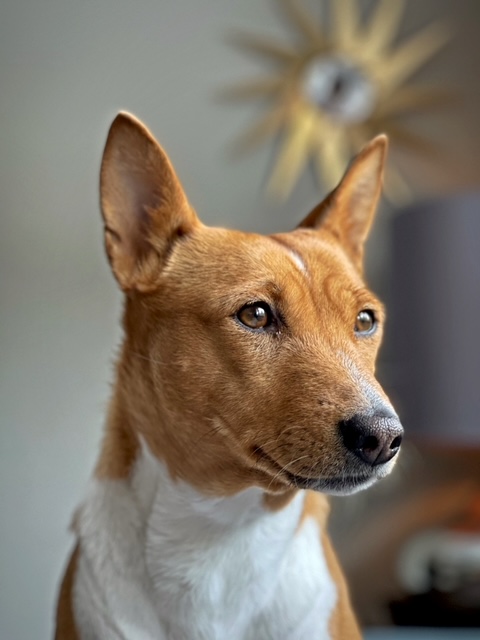 I am a 9 year old Basenji, I tend to approach life with a bit more caution compared to my more curious sister. Some of my favorite things are going on long walks, sun bathing and chowing down on some broccoli. I am very affectionate and playful, I just need time to warm up to new people but when I do you will have a friend for life.
Hi, I'm Kenya!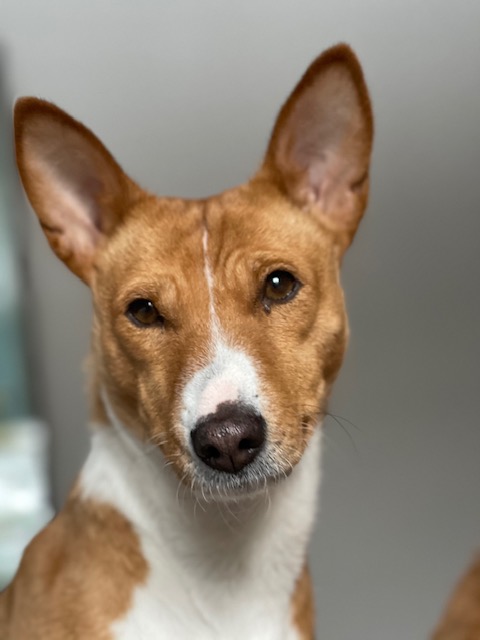 I am also a 9 year old Basenji, i am the fun one compared to my reserved sister. She keeps me in line but I love to chase squirrels more than I like listening to her. I am a little ball of energy but sometimes my curiosity gets the best of me and a well secured yard keeps me out of trouble. I also love meeting new dogs and people, I will melt your heart in no time. Give me and my sister a chance and you will have two loyal companions for life.
Things to know
Cleo has a taste for fabric, be mindful of leaving blankets or anything soft around them.
Long car rides are enjoyable if you put some CBD oil in their breakfast.
They are leashed trained and do well interacting with other dogs but they are still skittish around bicycles, runners and abrupt loud noises. Occasionally they will lunge and nip at people if they feel threatened.
Feeding happens twice a day, 40G of wet and 30G dry kibble, be mindful of Cleo attempting to finish Kenya's food.
They enjoy sleeping in the bed, or they cuddle with each other on a sofa.
That have experience with cats, they can be playful with them but most of the time they give each other space.
Baths are tolerable, just bath them separately and provide treats after.
Cleo knows how to sit when a treat is provided, Kenya is a bit more aloof.
They were un crate trained, due to their history they do not take to a crate well. They tolerate a soft sided kennel if your nearby, which is useful when we go camping.
Dog parks are enjoyable for them, Kenya is more personable around other dogs and Cleo is more reserved and enjoys observing from a distance. Be mindful of weak points in the fence and keep an eye on the entrance gate. Kenya is an escape artist. Otherwise, they recall well when it's time to leave but be patient and firm.
Off leash is not recommended, but if they do get free. Do NOT chase, stay calm and approach slowly while keeping an eye on them. Kenya is more receptive to coming back, Cleo needs a bit more patience but she will if approached slowly.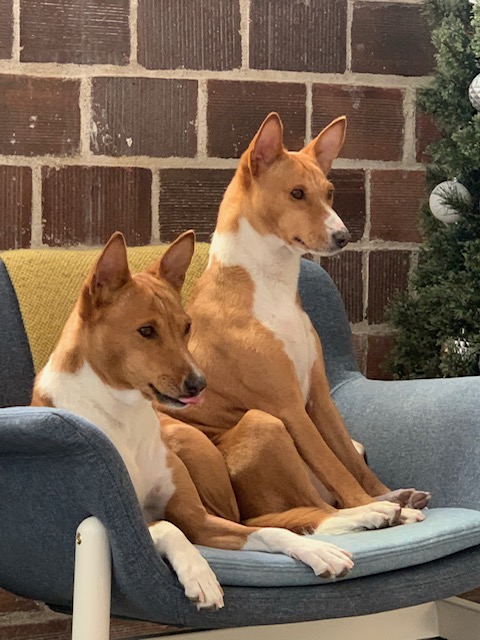 Cleo and Kenya are littermate sisters originally from a high volume breeder. They are bonded,  thus we will place them together. Their current home is unable to keep them due to a change in landlord protocol.  They come from a very loving home and have made great progress in adjusting to the" real world" during the past six years with their original adopters.

Both are spayed, microchipped current on vaccinations and will be receiving bloodwork with follow-up exam shortly. Their birthday is December 13 of 2013.

There is an adoption fee of $275 for this pair of lovely Basenjis.

For more information about Cleo and Kenya please contact Peggy  at
(303)455-8216  (no texting as it is a landline)  or by email at
inquiry@coloradobasenjirescue.org

Please include a phone number where you can be reached if using email.
Local Colorado adopters will be given first consideration for Cleo and Kenya.
---
MYSTERIOUS MITZY
BREAKING NEWS!!
The DNA results are in.  Mitzy is predominantly Basenji with a scattering of small companion breeds involved.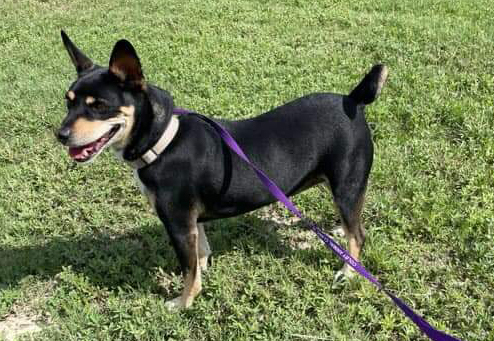 Little is known about Mitzy's past.  What we do know…
Mitzy is 9 years old, was owned by an older man and was recently left in a rural area by the owner.  The circumstances are unclear.  She was picked up as a "stray" and was briefly taken in by a good Samaritan.  The kind human was unable to keep her safely in her yard and has relinquished her to Colorado Basenji Rescue.
Since her arrival at CBR she has had a thorough vet exam with bloodwork.  She is healthy with no apparent health issues and is heartworm negative.  She initially weighed in at 38 pounds with a definite layer of fat, but has trimmed down to around 30 pounds with her carefully measured diet.  She eats Farmina brand kibble.  She stands to lose a few more pounds to reach her ideal weight.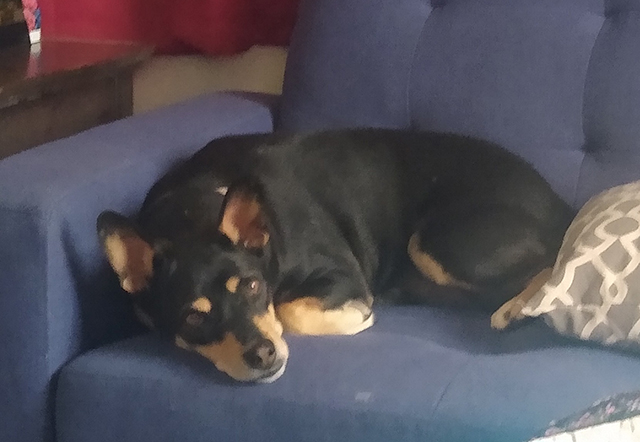 Mitzy is VERY connected to humans and would do best in a home with an owner who can spend a lot of time with her.  She is crated trained and very gentle, but does not appreciate the company of other dogs.  She is very agile and can jump and climb.  A secure yard with a 6 foot smooth fence will be a must.  She can climb shorter fencing.
Mitzy does not bark.  She can, however, scream.  This could be an issue if left alone in an apartment situation for an extended time period.
A DNA breed test is pending as we suspect that she may have other breeds in her heritage due to the shape of her ears, resembling those of the Frenchie, and the lack of white on the tip of her tail.  Her vocalizations are reminiscent of Basenji or Shiba Inu. 
Mitzy is such a loyal and loving girl and simply needs a new human to love.  Could you be that human?
For more information about mysterious Mitzy you may contact Peggy at (303)455-8216  or by email at inquiry@coloradobasenjirescue.org.  Please leave a phone contact if you send an email inquiry. The adoption fee is $75.
---

Lulu

A miracle for little Lulu!!
Lulu was recently adopted and we are posting her story to show that there are loving homes for the most senior of Basenjis!
Little Lulu is a senior Basenji who will celebrate her 14th birthday this year.  She has had a rather tumultuous life, passing from three homes until finally landing in a loving home with a retired owner.  She and her human lived a quiet life for six years until her owner suffered an tragic accident which left her unable to walk. Sadly she was forced with the decision to return Lulu to Colorado Basenji Rescue.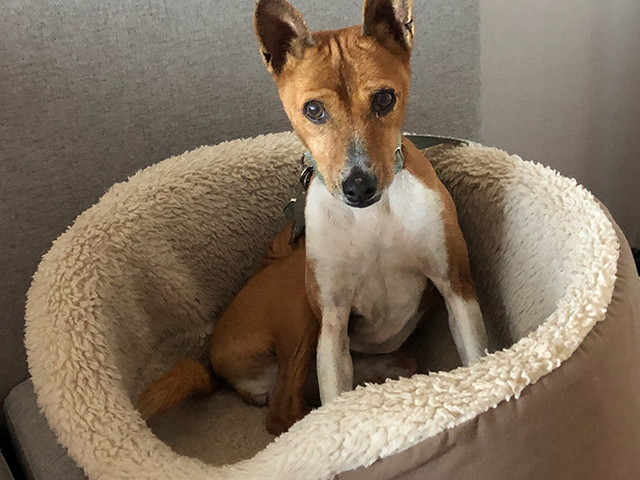 Miraculously, a past Basenji owner whose Basenjis and husband have passed away, reached out to adopt Lulu.  Cathy and Lulu made the long trip from Denver to Spokane, Washington where they are settling in to share their golden years together!  Miracles do happen!
---
Oreo
Meet Oreo!
Oreo is a  young black and white purebred female Basenji ready to move on to her forever home.  She comes from a breeder facility where she had no contact with the outside world and no socialization with humans.  Given this challenging beginning we are happy to report that she is making great progress in her foster home and is ready for adoption to a home understanding of her past and willing to give her time and space to grow emotionally.
Oreo is currently in a loving foster home in Broomfield, CO where she is progressing in potty training, is learning to play with other dogs, and learning how to behave in a home setting.  She loves chasing squirrels, chewing up dog toys, and is making progress in trusting people.  She would be best in a home with a securely fenced yard, no children, and in a relatively quiet home setting with experienced dog owners.  She is crate trained and has a calm temperament.  She will need time to adjust to a new environment and people when she does go to her forever home.  A home with a friendly male dog would be a plus for Oreo.
Oreo has gained two pounds since her arrival and now weighs 19.8 pounds.  She is current on vaccinations, recently spayed, microchipped and heartworm tested negative.  Her date of birth is November 15 of 2020.
If you feel that you would be a good match for Oreo please fill out the application form on the Colorado Basenji Rescue website.  If you have questions about Oreo you may contact Peggy at (303)455-8216 ( no texting option as it is a land line)  If you send an email, please include a phone number where you can be reached.
There is an adoption fee of $350 for Oreo.
---
Meet Zeke and Shine!
Update on Zeke…Zeke has been diagnosed with Fanconi syndrome and is now on a plan of supplements to address the condition.  He is doing well and will need continued monitoring by an owner to insure that he continues to thrive.  Shine has tested clear of Fanconi with the OFA direct DNA test.  Good news for Shine!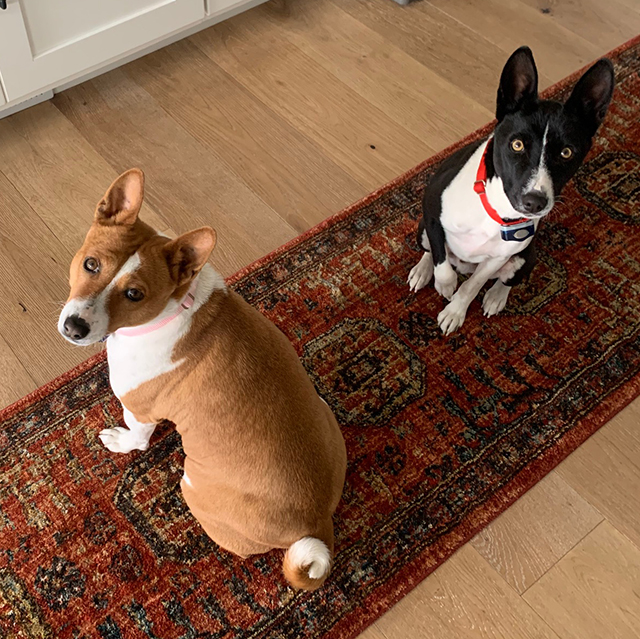 Zeke, a 7 year old black and white Basenji, and Shine, a 7 year old red and white female Basenji are a bonded pair, waiting for a home together.  They are well behaved (for Basenjis) and have been loved and cared for their entire lives.  The owner , due to long work hours, is not able to give them the attention they require and has made the difficult decision to give them a new start with Colorado Basenji Rescue.
They have transitioned smoothly into their foster home which offers them a quiet place with no other pets while waiting for a forever home.
Zeke is outgoing and greets every person happily.  Shine is a bit reserved but will warm up slowly to new people.  They are accustomed to sleeping together in their crate, are house trained and have been well-behaved in the home.  They both enjoy snuggling on the couch with a human! They enjoy daily walks and are used to being walked together. 
Zeke weighs 20 pounds and Shine 29 pounds.  The foster home is feeding them separately since Shine has been allowed to eating Zeke's food in the past, thus the weight discrepancies.
Both Basenjis have recently  had  veterinary exams with updates on vaccines.  They are now microchipped and are spayed and neutered.  Zeke is scheduled for a dental cleaning.
A home for Zeke and Shine will need a securely fenced yard, a family that can spend time with these lovely Basenjis, and will walk them daily.  They need a quiet home with no small children and no other pets.
DNA Fanconi test is pending.
There is an adoption fee of $400 for the pair.
For more information about Zeke and Shine please contact Peggy at (303)455-8216 or inquiry@coloradobasenjirescue.org
Preference will be given to homes within a day's drive of the Denver area.
---
Daisy Daisy Mae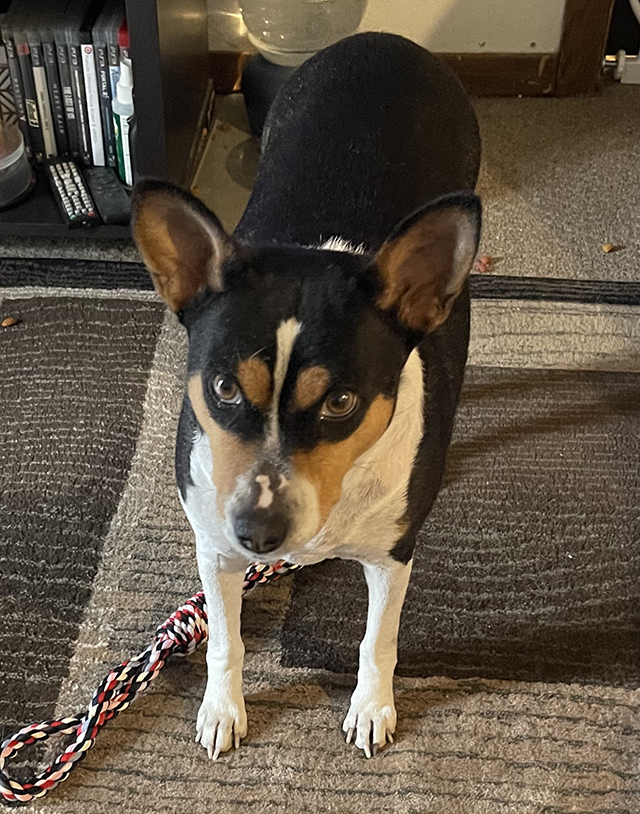 Hello, humans, my name is Daisy Mae.  I write to you in search of a new forever home.
Here is my  story…..
Let's start with the present.  My owner, who loves me, can no longer take care of me due to some major health issues that prevent her from getting me out on walks and giving me the attention that I, as a typical curious, active, and sometimes mischievous, Basenji, deserve.  So, I arrived at Colorado Basenji Rescue on April 1st (that's no joke) to seek a new life!
As you can see, I am a beautiful (if not slightly overweight) tricolor Basenji.  I am "Basenji" through and through, loving to chase squirrels, take walks, snuggle on the couch, get into the trash and laundry,( Oops, did I say that?) and perform other creative Basenji  activities.  I am crate trained, housetrained, and quiet.  What more could a human ask for?
In the past I have lived with other dogs and would be happy in a home with friendly canines.  When I meet dogs on a walk I am curious but polite.  I walk on a harness to prevent stress on my neck.
Small humans would be a bit much for my nerves, but older kids and adults are my cup of tea.  I can become depressed if left alone for long periods of time, so a home with humans home a lot would suit me well.
I am cautious with folks on first meeting, but soon relax when I can see that they are dog friendly.
I must be tucked in at night with a blanket to cover me.  I have enjoyed sleeping in bed with my past owner but I do wake up grouchy sometimes, so that would need to be negotiated with a new human.
I should mention that I am on a diet.  I currently weigh 30 pounds and am aiming to get my beautiful figure (22 pounds) back with some help from my foster home.  I eat Honest Kitchen clusters, ½ cup morning and night with my thyroid pill.
 That's about it.  You can contact my "people" at Colorado Basenji Rescue if you would like to be my forever home!
 Daisy has recently had a vet exam with bloodwork.  It was revealed that she is hypothyroid, and is now on thyroid medication to correct her condition.  The meds are inexpensive and easily administered.   This should help to correct her overweight status and also improve her coat and activity level. Daisy is current on appropriate vaccinations, microchipped and had been spayed years ago.  She is 11 years young with much to look forward to in the upcoming years!
There is an adoption fee of $175 for Daisy Mae
---
Oakley

Meet Oakley!
**
We are taking a temporary pause on adoption plans for Oakley while we work on adjusting his revised anti- anxiety medications.  We are still taking applications and answering questions about Oakley while he adjusts to the anti-anxiety protocol.  Please contact Peggy at 303 455-8216 or at this email for updates on Oakley.  We regret the delay but feel it important that Oakley is in a stable state of mind prior to an adoption.
**
Oakley is one of five eleven month old Basenjis that were recently released from a breeding facility and subsequently transferred to Colorado Basenji Rescue from another shelter.
All five Basenjis are unsure of the world around them, and have varying degrees of fear of anything outside their past limited experiences.  They are nervous around humans but can be picked up and are very gentle.
Oakley is the most well- adjusted of the five, thanks in part to the competent care given by the foster home over the past few months, and is now ready for adoption to a Basenji savvy home.
Oakley's foster home describes him as a very shy but kind boy who is looking for a quiet home.  The foster home has been working on building his confidence and trust.
Oakley has done very well with cats and other dogs.  Having a canine companion has helped him to come out of his shell.
Oakley's foster notes that although he is shy, if you go slow with him he is very affectionate.  He is nervous around loud noises and quick movements, thus a Basenji savvy home with no children is a must for Oakley.  When he becomes nervous he just wants a safe place to hide.  He is crate trained and loves having his crate as a safe place when things become overwhelming.
Oakley will go on walks, but only on a snug fitting harness, not a collar.  He does not pull on the leash, and will stay right with his human.
Oakley is current on vaccinations, microchipped and was recently neutered.  He does have an underbite that has been examined by a veterinary dental specialist.  He has no problems eating dry food and there is no trauma on his palate from the teeth.
Oakley's forever home will need to be very patient as he adjusts slowly to his new environment  He thrives on routine and will do best in a home that can provide a regular routine.  He is housetrained.
A behaviorist familiar with these five Basenjis has recommended that they be placed in homes with another friendly canine companion to help build confidence.
Fanconi DNA testing pending.
If you feel that Oakley is a good match for you, please contact Peggy at (303)455-8216 or inquiry@coloradobasenjirescue.org  There is an adoption fee of $375 for Oakley.
---
Beautiful Basenji Mixes
Meet Sugar!
As her name implies, Sugar is the sweetest dog on the block!
Sugar's story with Colorado Basenji Rescue began in 2019 when she was relinquished by her owners to CBR as they were forced into homelessness and could no longer care for Sugar.
Sugar was adopted through CBR the same year to an adult family (a senior woman and her adult son) with a home, a fenced yard , and three hilarious Pugs.  Life was good for the family. The Pugs and Sugar played together, the humans adored Sugar, all was well with the world, at least for several years.  Sadly, the adult son died of a sudden heart attack leaving the mother alone with the four dogs. When the decision was made that the owner should move into senior living, the Pugs were relinquished to a Pug rescue.  Sugar and her mom moved to a senior living facility that allowed dogs, and all was well until Sugar's mom experienced several major health emergencies , finally suffering a stroke.  Sugar is now back in the care of Colorado Basenji Rescue until an adopter or a permanent foster is found for Sugar.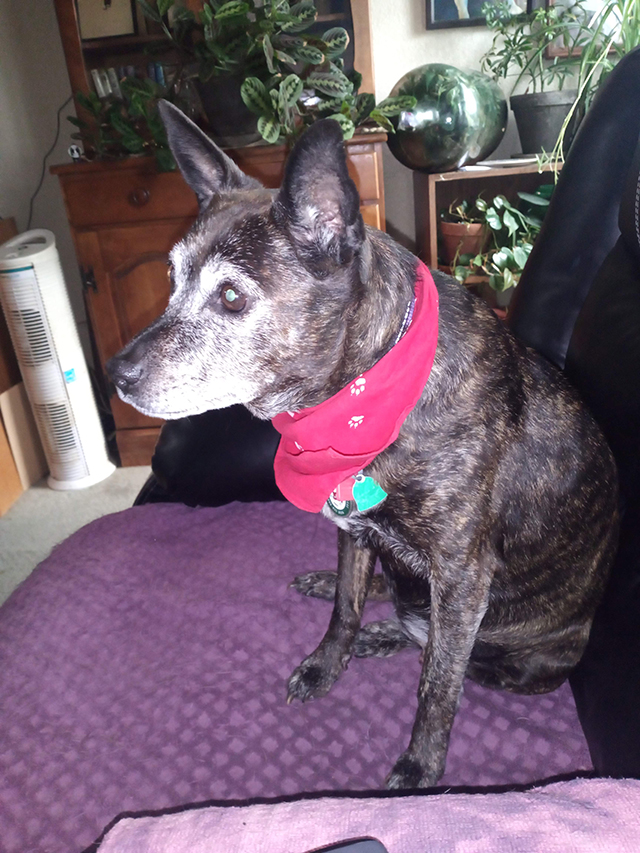 Sugar is a senior, exact age unknown, but likely around 14.  She defies her age and has the energy of a much younger dog.  Sugar needs a home with an owner able to walk Sugar twice a day and the time to spend with this loving girl.  She is crate trained and house trained.  Being a senior, she needs to take frequent pee breaks but will announce her needs loudly.
Sugar has had recent senior bloodwork and vaccinations and is healthy with no known health issues.  She is hard of hearing, but retains some eyesight, and will come running to you excitedly when she sees you!
Due to her age, there will be no adoption fee for Sugar.  Our hopes are simply to find Sugar a loving home for her golden years.  A retired or semi-retired but active owner would be ideal for Sugar.  She believes that all dogs are her friends, thus a home with friendly dog or cat would be a plus.
If you would like more information about Sugar you may call Peggy at 303 455-8216 (no texting option as this is a landline)  or email to inquiry@coloradobasenjirescue.org.  If you communicate by this email, please leave a phone number where you can be reached.
---

Stevie!

***

UPDATE ON STEVIE!!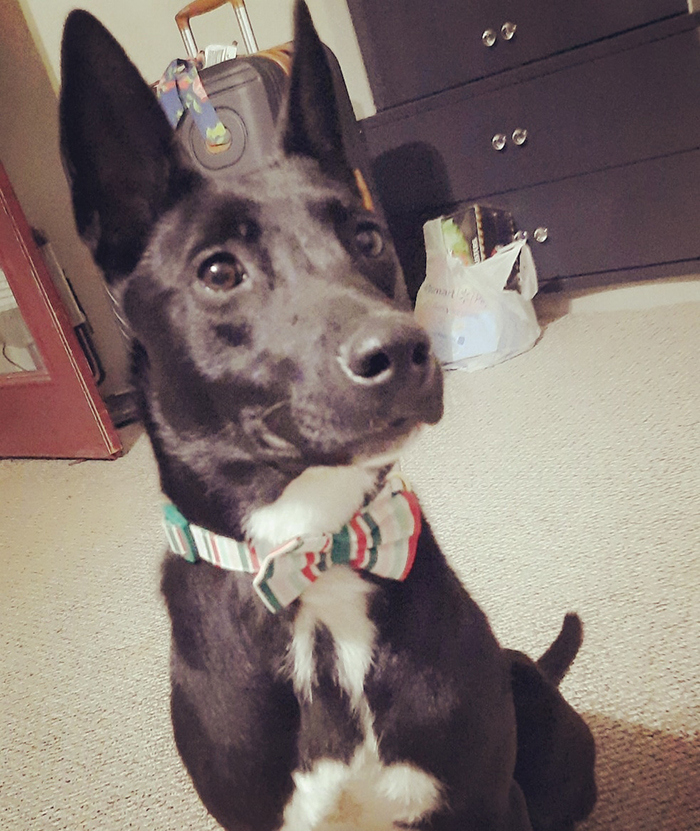 The recent DNA profile for Stevie indicates that she has absolutely NO Basenji in her, in spite of her past veterinary records calling her a Basenji mix.
That being said, Stevie will need an adopter with clear knowledge and experience with the Belgian Malinois and Shepherd breeds.  Stevie is extremely athletic and will require a physically strong person to manage her on a leash.  She is very smart, trainable and eager to please.  She has been through a 6 week training course while at Colorado Basenji Rescue and will need an owner committed to continuing her training on a professional level.  Stevie continues to be reactive to dogs.  She loves people and would be best in and adult home with no other pets.
Colorado Basenji Rescue will fund a training course with a local professional trainer for an adopter who will follow up with Stevie's ongoing education.
***
It is vital that a potential adopter for Stevie does have a working knowledge of this or other similar breeds and will be dedicated to working with her in a positive training program to improve her basic behaviors.  Since Stevie has shown a propensity to lunge and bark at strangers and dogs while on a leash we are starting her in a private training class to begin her education.  We have great hopes for this loving, highly athletic girl!
Stevie is a lovely female mix, full of love and positive energy and eager to find her forever home.
Although she is young (estimated by the veterinarian to be somewhere between 8 and 10 months of age),  Stevie is very focused on humans and eager to please.  She is quick to learn and will be a pleasure to train.  She knows the sit command but needs a basic positive obedience training program to complete her education.  She loves people and currently jumps up on people in enthusiastic but uncontrolled happy greeting.  She weighs 38 pounds so she will be best in a home with no small children that she could knock over.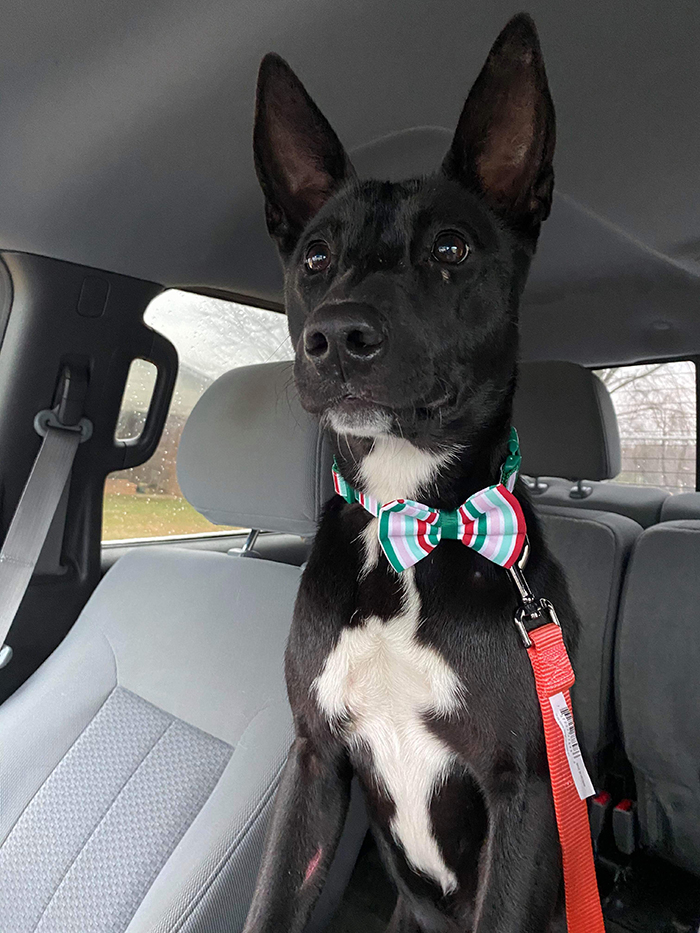 Stevie must have a 6 foot solid fence as she is skilled in effortlessly sailing over lower fencing.  She could live in an apartment setting if the owner is dedicated to exercising her regularly on a leash. A super active young adult could be a good match for Stevie.
Stevie was recently spayed, updated on vaccines and microchipped.  She is crate trained and has never made a potty mistake in her crate.   She loves to chase balls although she is not so eager to give the balls back, instead galloping around the yard hoping to be chased.
She currently eats twice daily Earthborn grain free lamb formula kibble and has no dietary issues.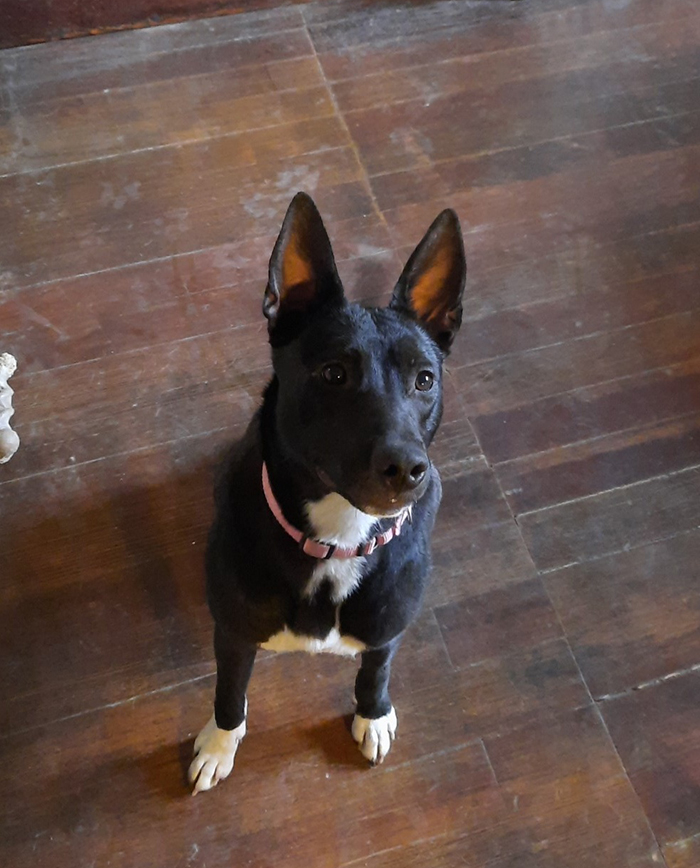 Stevie can bark but does so only if bored  and wanting attention.  She has not been tested with cats but has interacted well with friendly dogs in the past, when properly introduced.
An active owner willing to dedicate the time to further her obedience training and to give Stevie plenty of exercise will be a good fit for this enthusiastic girl.
For more information about Stevie you may contact Peggy at (303)455-8216 or by email at inquiry@coloradobasenjirescue.org
There is an adoption fee of $225 for Stevie
---
Roo

This is a courtesy posting for the owner of Roo.  Please note that Colorado Basenji Rescue has not evaluated this dog and takes no responsibility for the information provided by the owner.  An adoption will be soley between the owner and an interested adopter.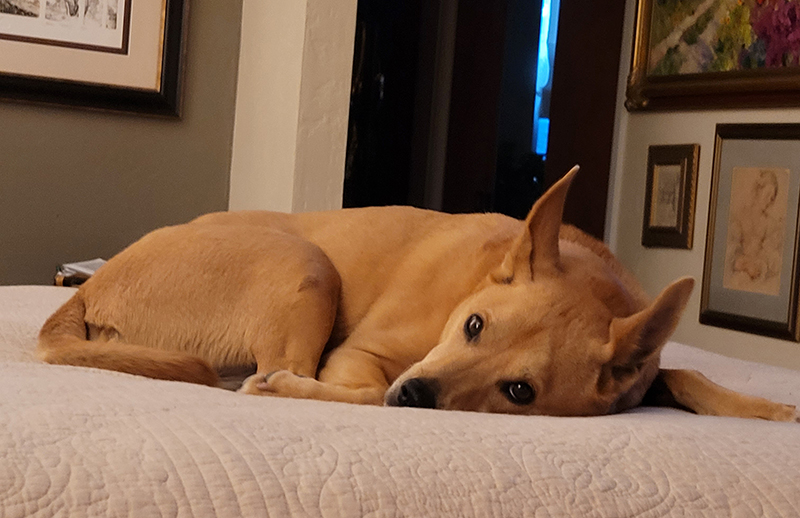 Roo needs a special home. Maybe with you?
Roo is an 8 year old Basenji mix female  whose human has become very ill and is unable to care for her needs.
High energy! LOVES playing ball. taking hikes, just being with her humans
Spayed, absolutely fit, and up to date on all shots according to the veterinarian.
Is protective of her human, and loyal to a fault (stayed by her previous humans side when they became ill, did not leave their side until the first responders arrived).
Sleeps near you, not necessarily with you. Absolutely needs grass to roll in, next to ball tossing this is her favorite
Totally housebroken, and uses a dog door like a champ!
Gets along with children, and cats.
Learns quickly – very quickly
Roo does suffer from some separation anxiety. But is comforted just by the humans she loves attention, and playing with her ball.
CBD supplement has been a get help also.
During walks does bark at other dogs, but, is not aggressive. Just excited and wants to say hello.
Does not need crate, will not tolerate being kept is small space on her own well.
My host family is dedicated to finding her the best forever home – because she deserves to love and be loved.
Please contact the owner directly:
Georgina Ham
720-725-3346
Gkh1957@live.com