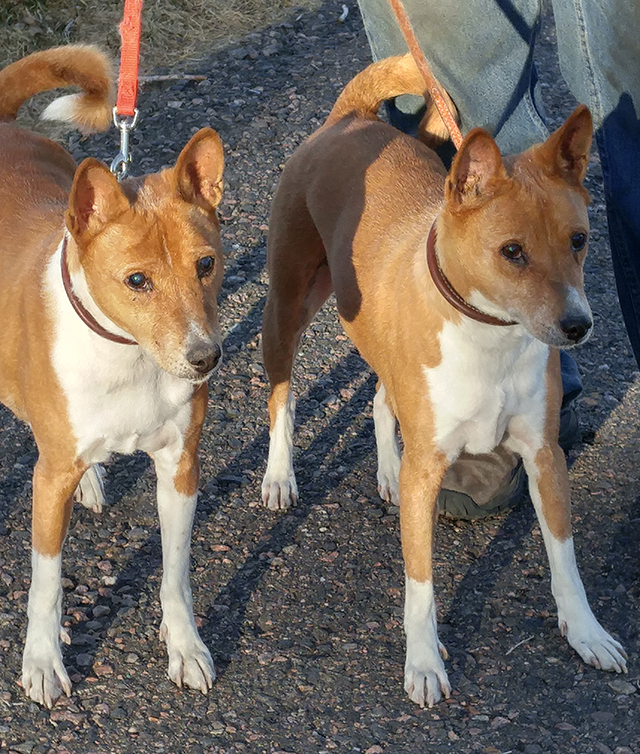 Tater & Tot
Tater and Tot are littermate Basenji brothers whose owner suddenly passed away, leaving the boys homeless.  The boys are a bonded pair and have been together all their lives.  We will be seeking a home that will adopt both dogs together.
These handsome boys have lived in a loving home where they had access to a yard through a doggy door.  A similar setup would be ideal for their new home.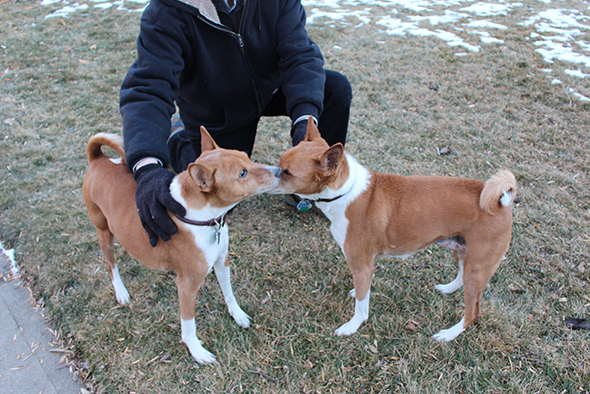 They sleep in their wire kennels which will come with them to a new home.  Both dogs have had regular veterinary care throughout their lives and are current on all vaccinations including heartworm preventative.  They enjoy walks and have no major health issues.
Since they are seniors, although in good health, the adoption fee for the two is $100.  Their owner loved them very much and it is fitting that they find a home that will love and enjoy this pair as he did.  They expect to have fresh ground turkey cooked for them daily, but this could be negotiable!
If you can open your home to these boys please contact Peggy at (303)455-8216 or inquiry@coloradobasenjirescue.org
---

Kili
Meet Kili!  Kili was relinquished to an animal shelter and recently transferred to the care of Colorado Basenji Rescue.  The following profile by Kili's foster mom describes his personality and his progress while in his foster home….
His foster family calls him Kili (short for "Kilimanjaro") because he is an energetic boy with a large personality! After coming into care with both an affectionate nature but also some trust issues, he is thriving now and climbing heights, in given some time and understanding. 
 
Believed to be around 3 years old, Kili is playful with both his human friends and also with the boisterous English Shepherd he lives with. The two of them run and wrestle and sneak toys from one another. He can be pesky at times with the foster family's cats but it only amounts to occasional playful chasing.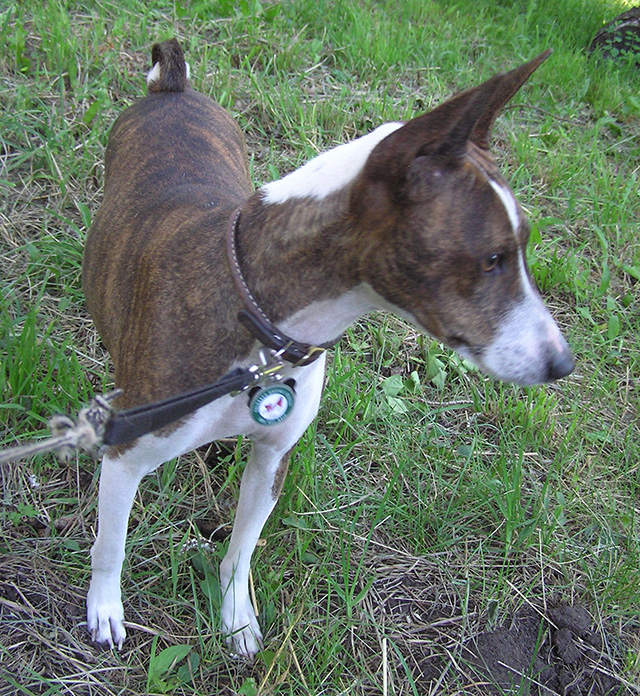 Kili can fetch and he is also learning to catch toys in his mouth. He is a quick study who is treat-motivated and may well have potential to put toward dog sporting events. He certainly loves all the companionship that can be devoted to his quick mind. He is also willing to wait and be a quiet house basenji when that is what his people are wanting. He is tickled, so happy, when one of his foster family has returns from being away for the day.
 
He does not like lengthy crating; he can accept some of it when necessary, though with some tendency to be vocal in complaining about it. Kili has not been destructive in the house when left free with his shepherd pal. He does seem a little nervous if left completely alone in the foster home.
 
Kili is dearly fond of being a bed dog and cozying up to his humans at night. Under watchful supervision, he has been very good with the fosters' 2-year-old grand-daughter who visited recently.
 
His trust issues will need continuing patience. He is especially worried about being hurried into a crate or about being handled by his collar in a quick manner, and he can not only balk but growl or even snap if he feels rushed or threatened in one of these ways. He is responding well to extra time taken with these two things, though, and learning to go with the flow of being handled more. A halter seems much less worrisome to him than a collar, so this is now proving helpful for working with him. 
 
This beautiful spirit seeks a home with activities and lots of companionship to keep his bright mind busy, another dog to play with and folks willing to give him their hearts and a little time to heal his past. 
Kili is neutered, vaccinated for rabies, strip tested negative for Fanconi, and will receive a second vet exam with appropriate vaccines prior to adoption. He weighs 23 pounds. The adoption fee for Kili is $275
For more information about Kili you may contact Peggy at (303)455-8216 or inquiry@coloradobasenjirescue.org
---

Sugar Baby (Mr. Wrinkles)
Hello, Basenji lovers!
As my name implies, I am a real sweetie!  My name came with me when I arrived at Colorado Basenji Rescue recently.  Since it fits my personality, I guess I get to keep it!
Sugar Baby is seeking a new home due to a divorce situation.  He is somewhere between 8 and 11 years old, a bit solid (31 pounds) but healthy and active.  He has had his senior exam with bloodwork, update on vaccines, is microchipped, neutered, and ready for adoption!  Sugar Baby has been around small children in his original home and would be fine in a home with well behaved children.  He is a loving basenji that would best fit a home with someone near most of the day as he does not like to be alone.  He is not destructive but can make mournful sounds if left alone for long periods of time. Sugar Baby loves his walks and will make a great companion for an owner who enjoys a little daily exercise.  He has lived in a home with other dogs but is happier being the only dog.  He is fine with cats, though!  He is not a digger or climber but is skilled at door darting so his new family will need to be aware of his talents.
Sugar Baby is in the Denver area.  His adoption fee is $125
For more information about adopting or fostering Sugar Baby please contact Peggy at (303)455-8216 orinquiry@coloradobasenjirescue.org
---
Lulu

Sweet and petite little Lulu is back with Colorado Basenji Rescue and looking for love and a permanent place to call home. 
With the upcoming addition of a third child due on Valentines Day,  Lulu's adopters feel that she would be a better fit for a family with older children and with more time to devote to Lulu..  Although Lulu has done well over the past two years with the two children in her home, ages 12 and 7, she is more comfortable around children over 10 years of age. 
Lulu recently celebrated her 6th birthday on November 21st.  She is affectionate, although a bit shy until she gets to know a person) and loves to cuddle and spend time with the adults in the family.  She enjoys walks with the children and plays well with the kids in the yard.   Her sleep spot is under the covers with her adults.
Lulu does have a history of escapes and thus will need a home very aware of her ability to dart out doors and to climb chain link fencing.  An apartment situation with a very active owner, or a home with a secure 6 foot fenced yard would be a must for Lulu.
Lulu has formal obedience training, and knows the hand and verbal commands for "sit" "down" and "out" (to go outside),  She communicates her desire for food, water, or to go outside by sitting in front of her owner and staring at them until they figure it out!  She also will scratch her ears to make her tags rattle if the humans are not paying attention to her needs.
Lulu does exhibit separation anxiety and can be destructive if left alone at home.  She is fine when she knows there is someone home.  She is crated in a bomb proof crate when owners are gone as she has destroyed several standard crates.  Her heavy duty crate can go with her to her new home.  She cannot be left loose in an car and will become destructive in that environment as well.
Lulu enjoys the dog park and is taken to the small dog area for exercise.  She is not comfortable with larger dogs.  She has lived with another Basenji in the past, and would likely be compatible in a home with a  friendly male dog, close to her size.
Lulu weighs 16 ½ pounds and is in excellent shape.  She is current on vaccinations and has had regular veterinary care.  She is microchipped and heartworm negative.
Lulu will need a new owner with the energy to walk her several times a day and to provide her with regular means of exercise and mental stimulation.  Her separation anxiety may be lessened with more attention and opportunities for exercise.
The adoption fee for Lulu is $250
For more information about Lulu please contact Peggy at (303)455-8216 or inquiry@coloradobasenjirescue.org
---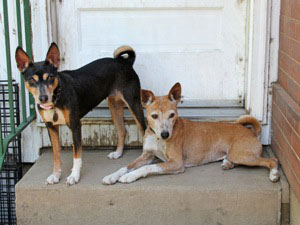 Lucky (right) Bandit (left)
Hello all Basenji lovers!
My name is Lucky.  My original owner, now deceased, gave me the name Lucky and I am sticking with it!  I do believe that soon my lucky day will arrive.  While I am waiting for my new humans to adopt me let me give you a bit of background information.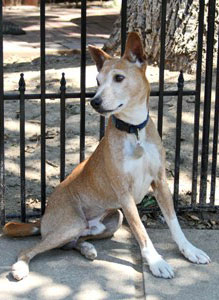 I was born on November 21st, 2005 and have lived with one owner/Basenji breeder until his untimely death.  I was a country boy and was surrounded by other Basenjis in a rural mountain setting.  After my owner's passing the whole lot of us were transferred to the care of Colorado Basenji Rescue.  Most of our pack have found homes and I am looking forward to my "lucky day"  as well.
I am a male Basenji..well, that is questionable after that surprise trip to the veterinarian recently.  Boy, that was NOT my lucky day.  I got a complete tune up, including a neuter.  Yikes!  And to add insult to injury I came home minus 13 teeth.  (I did not see a dentist on a regular basis and never flossed my canines, big mistake.)  Well, I have recovered, and I guess I will get over the indignities suffered on that day.  One must move forward.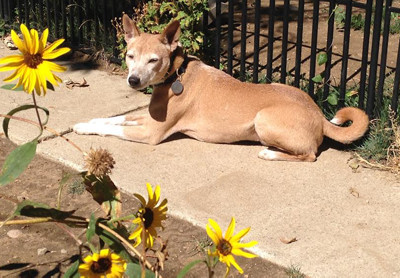 Since my transfer I have learned to sleep in a crate and to wait to do my business outside.  I will need some supervision with housetraining in a new home, however.
I have a good appetite and am very active.  I am shy at first with new people but once I can see that the new humans are not dangerous, I am fine with greeting them and being petted.  I have learned to take walks on a leash and am doing pretty well, I have been told!
My father, Spicer, is alive and well at 16 years of age, as is my mom, Miss JJ who is just one year older than I.  (Yes, mom was a child bride) Mom has been adopted and has a wonderful home in Colorado.
Well, I guess that about covers it..oh, BUT WAIT!  Did I mention that you can adopt not one, but two Basenjis?  I have a lovely companion, Bandit, with whom I share my life.  My partner in crime is a tricolor female Basenji just about my age.
You can see by her photo that she is a knock out!  Would you consider both of us????
Lucky is neutered, had a complete CBC and dental, vaccinated for rabies on January 29th 2015, strip tested negative for Fanconi, and microchipped.  He weighs 19 pounds.
Lucky would be best either adopted with his female companion, Bandit, or as the only pet.  He has not lived with cats.
The adoption fee for the pair is $275. 
A Basenji knowledgeable home with no small children is important for a successful adoption.
Bandit is spayed and will receive updated vaccinations, microchip, and dental prior to adoption.  She has been strip tested negative for Fanconi.  Her birthday is December 5, 2004.  She is similar to Lucky in personality and behaviors.  She enjoys Lucky but would likely not do well with unfamiliar dogs.  Bandit is energetic and very inquisitive.  She will need supervision and guidance in a new home.  A home with owners home at least part of the day would be best for Bandit.
Both Lucky and Bandit currently eat Fromm Gold kibble mixed with sea kelp and are fed twice daily.
Both Lucky and Bandit have come a long way in foster care and with patience in a Basenji savvy home they will thrive. For more information about Lucky and Bandit please contact Peggy at (303)455-8216 or email toinquiry@coloradobasenjirescue.org
---

Bambi
Sadly we had to say goodbye to sweet Bambi after a long battle with Fanconi.   Bambi had been doing well on the Gonto Fanconi protocol until mid summer of 2016 when her kidneys took a downward turn.  In spite of all the medical care provided, she was unable to rally and passed away peacefully on the morning of January 21st.  She is missed by her foster family and all at CBR that knew her.
Bambi is a 9-year-old female Basenji, one of the group of Basenjis transferred to CBR upon the death of the owner in Cripple Creek, Colorado.
Bambi is a lively and vocal Basenji who loves to sing. Her daily yodels inspire the other Basenjis in her foster home to join in joyful chorus several times each day!
Bambi is quite affectionate and craves the human touch. She is reserved when she first meets new people, but warms up fairly quickly.
Soon after arrival in rescue, Bambi had a thorough veterinary exam and complete CBC. She had spay surgery and at the same time surgery to remove a mass that fortunately was benign. She recovered well from the procedures.
Bambi has Fanconi, but a mild form which is successfully managed on the Gonto protocol with just a few supplements per day. She receives 1/2 tablet per meal of Pet TabCF and Pet Tab AF (vitamins) and just one tablet of sodium bicarbonate per meal. She is very food motivated and takes her supplements well. Her weight and muscle condition are great and her coat is healthy. The only visible signs that she has Fanconi are the water consumption and consequent need to pee frequently. Due to her Fanconi, Bambi will need a home with someone able to let her out often.
Bambi's blood work has been closely monitored with several venous blood gas tests and CBC panels. The results have been consistently excellent!
Bambi is a petite 17 pounds. She has not lived with cats. She is crate-trained and sleeps in her crate at night.
This is a charming Basenji girl waiting for the right home. Her new owner will be provided with a supply of her supplements and will be offered continued support to help with her special needs. Please consider beautiful Bambi!
For more information about Bambi, you may contact Peggy by phone at 303-455-8216, or by e-mail at: inquiry@coloradobasenjirescue.org
---
Beautiful Basenji Mixes
Chanuka

Chanuka is a Basenji mix of true African heritage (his DNA test reveals purebred Basenjis on both sets of grandparents sides as well as both sets of great grandparents) His birthday is December 18 2006.
Chanuka's owner has gone into long term nursing care and can no longer provide for this lovely fellow.  He is in the care of Colorado Basenji Rescue and is seeking a home for his senior years. 
Chanuka's foster mom reports great progress in his attitude and enjoyment of life.  He was initially quite timid as he had not been out in the world much and had a rather reclusive life.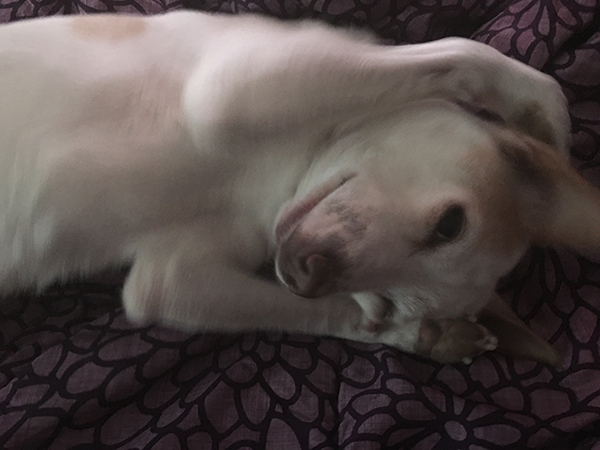 It is clear that he truly enjoys the company of other dogs (there was a female Basenji in his past home) and is happiest with some canine and feline companionship. 
He is a very gentle soul  and  is appreciative of human companionship as well.  He has really come out of his shell and we see that he will make some family a very loving companion!  Chanuka currently resides in his foster home with two humans, two canines (one Basenji mix and one purebred Basenji) and a senior kitty.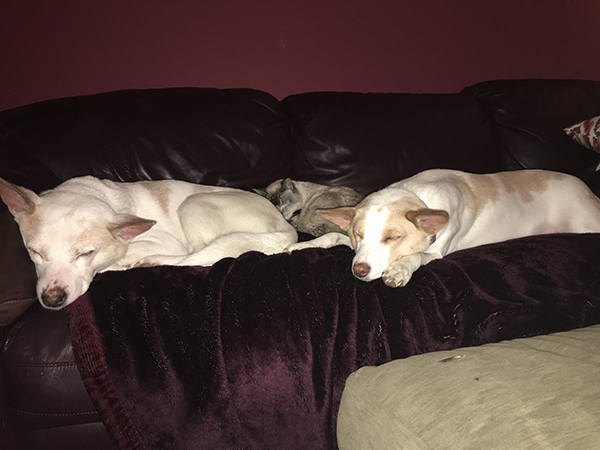 Chanuka has been updated on vaccinations, neutered, dental done with no extractions, microchipped, strip tested for Fanconi(negative) and is ready to move on with life! He is a healthy guy with many active years ahead.
For more information about Chanuka please contact Peggy at (303)455-8216 or inquiry@coloradobasenjirescue.org.  Chanuka's foster mom has complied a video of Chanuka which can be viewed on the Colorado Basenji Rescue facebook page.
---

Sadie
*Update: Sadie is in a new foster home where she has quickly learned "sit", "down", "roll over", "get your baby", "drop it", and "fetch", all in one week!  She begins her basic obedience training class on March 2!
Sadie is an exuberant one year old girl with a zest for life (and for tennis balls).  She was transferred to Colorado Basenji Rescue from a home unable to keep up with her high energy.  She was presented to CBR as a Basenji mix although her behaviors are not exactly Basenji-like.  She loves to chase balls and does not mind the cold weather.  She has an enormous amount of enthusiasm and will be well suited to an active owner that has time for long walks and playtime in the yard.  A basic obedience class is a must for Sadie to channel her energy in a positive way.  She had lived with a male heeler mix in a home with cats.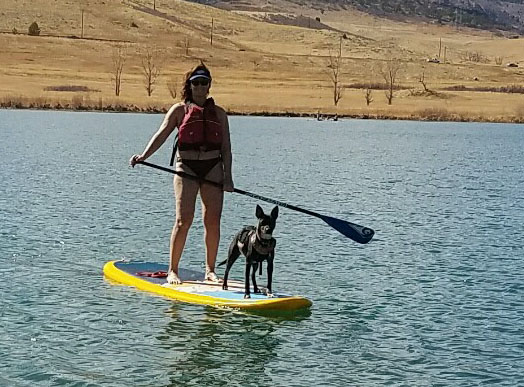 Sadie is spayed and current on her vaccinations, fecal, heartworm test is negative.  She is kennel trained and very willing to learn. 
Colorado Basenji Rescue will reimburse Sadie's adopter for the cost of a training class upon proof of completion.
For more information about Sadie please contact Peggy at (303)455-8216 or inquiry@coloradobasenjirescue.org
---

Barkley
Hi folks!  I am Barkley and I am eagerly waiting for someone to choose me to love.  Here are my particulars for your consideration..
I am about 2 years old and spent time in a shelter with a leg injury before coming to Colorado Basenji Rescue.  My leg has healed and I am "ready to roll"!
I weigh 19 pounds and am somewhat light boned like an Italian Greyhound.  My handsome face resembles a Jack Russell or Smooth Fox Terrier.  My body has a Basenji-like appearance.  There you have it!
I am an active guy and would love to find a human to keep me busy.  A home as the only dog would be best for me as I do not know how to behave well around other dogs.  I love humans, though!  I have no physical issues and eat like a horse with no complaints.  I am kennel trained and am very good about waiting to go out to do my business.  I love to travel in the car in a wire crate..it really sooths me for some reason.
Barkley is a great little dog suited for an active owner with some prior dog experience.  He is happiest when he can get out to exercise several times daily.
If interested in more information about Barkley please contact Peggy at (303)455-8216 or inquiry@coloradobasenjirescue.org