Zelly and Jack

COMING SOON!
Updates on Zelly and Jack!
Good news for Zelly and Jack.  Both Basenjis were able to transition smoothly in to local homes, each with a Basenji companion, and will be truly "home for the holidays" as the year 2018 draws to a close.
Zelly, a 4 year old black and white female, and Jack, an 8 year old tricolor male, will soon be looking for new forever homes. When their evaluations are complete their full biographies will be will be posted on the website.  They do not need to be placed together.
---
Miss Eve

COMING SOON!
Miss Eve is a lovely 4 year old female Basenji currently in foster care with Colorado Basenji Rescue.  When her vetting is complete she will be posted on the website as adoptable.
---
Bleu
My name is Bleu! How do you do!
Hi , folks, I would like to introduce myself to the Basenji loving world.  As stated, my name is Bleu although I am actually black and white.  Go figure…
I am 9 months old and 16 pounds of energy and love. I am eating Fromm puppy kibble with some adult Fromm gold mixed in.
My original owners loved me but found that they could not meet my puppy needs due to their intense travel schedules.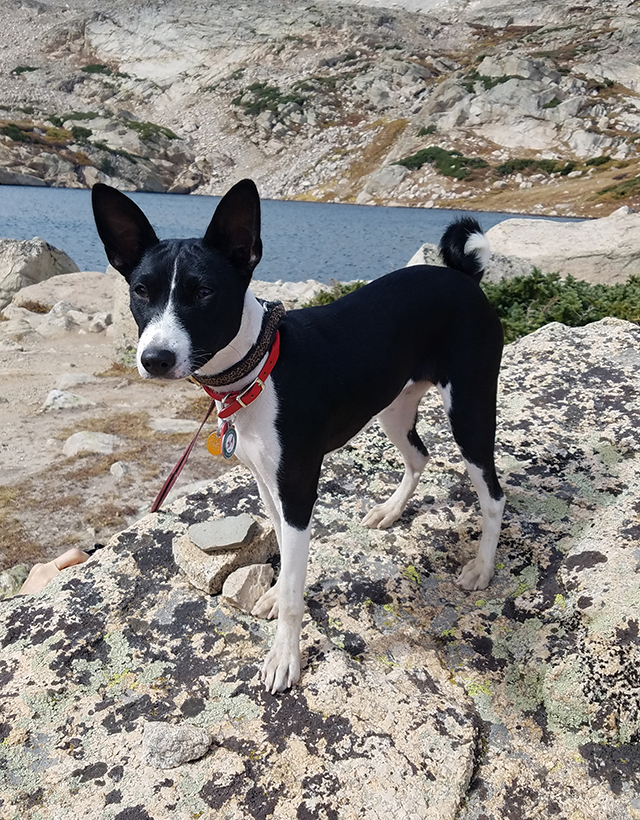 I am residing in a great foster home until my forever home is found.  I arrived with some work to do on housetraining but I think we have got that pretty well accomplished.  Having one foster parent at home to let me out frequently really helps!
Since I am still immature I do need to be kenneled when folks are out of the house.  I confess that when I was with my original owners I committed some embarrassing transgressions.  I shredded an expensive down comforter and I also turned on the bath water in a motel room, flooding the room and getting us kicked out of the motel.
My forever home needs to have a securely fenced yard and active people that can take me on plenty of long walks and day hikes.  Last week I went on a 6 mile climb and still had energy left! 
I love chasing small tennis balls and doing morning yoga stretches.  Oh, yes, I love to be petted!
I have lived with male dogs and a cat, although I cannot resist chasing cats for fun!
I would be fine with older children but not toddlers since I do not like to be surprised while sleeping.
Bleu was born December 19th 2017.  She is current on vaccinations, heartworm tested negative, spayed, and microchipped.  Her DNA Fanconi test is pending.
It is important that a home for Bleu has the scheduling ability to have someone home part of the day to give her a mid-day potty and exercise break.
There is an adoption fee of $300 for Bleu.
If you are interested in giving this sweet girl a forever home you may contact Peggy at (303)455-8216 or inquiry@coloradobasenjirescue.org
---
Charlie & Pete

Hi folks!

We are Pete and Charlie, the Basenji boys, ready to entertain you with our silly antics and charming personalities!

Pete and Charlie are bonded half- brothers who have been together since puppyhood.  For the majority of their past years they lived in a home with their second owners and with a male Bichon Frise companion.  Their owners recently moved to a living situation that does not allow pets and released the boys to Colorado Basenji Rescue.

After an upgrade in their diet to a better quality food and a visit to the veterinarian for exams and bloodwork, the boys are now ready to move to a permanent home to enjoy their golden years.

Both Pete and Charlie are amiable and greet new humans with  interest.  They are gentle and would do well in a home with adults and well-behaved children.  They are curious about the cats in their foster home, but are non-threatening to the dog savvy felines.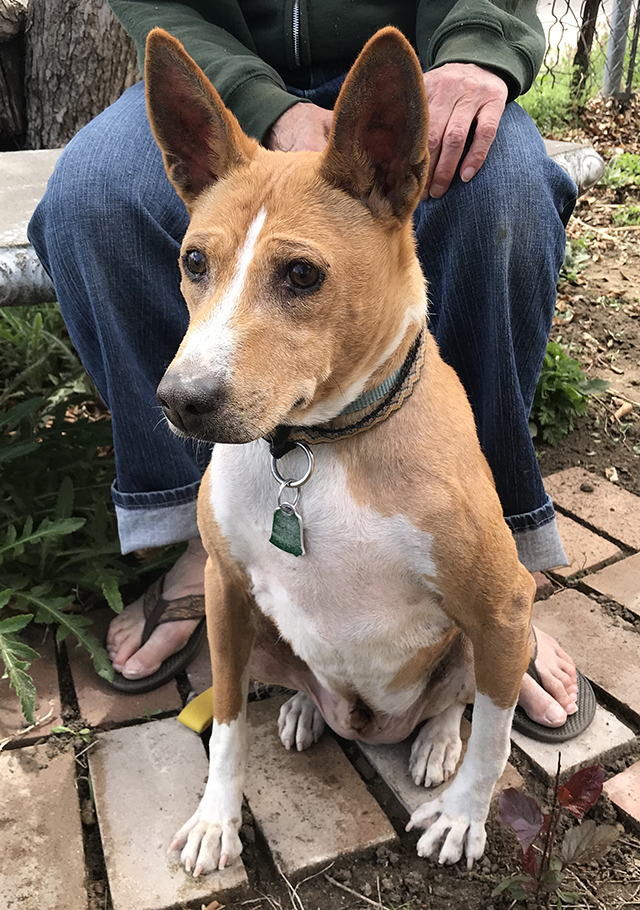 Both Basenjis have a few age related fatty lipomas (benign fatty deposits) but are in good general health for their age (12 and 13)  They are enthusiastic eaters and love taking walks in the neighborhood. They sleep together in a large wire kennel and are happiest when they are near each other.  They enjoy being petted (Charlie in particular).

Both are current on appropriate vaccinations, microchipped, neutered, and tested negative for heartworm.

If you are interested in giving these sweet senior Basenji boys a loving place to enjoy their golden years please contact Peggy at (303)455-8216 or email inquiry@coloradobasenjirescue.org

There is a small adoption fee of $100 for this bonded pair.
---
Juniper


*UPDATE!
After many months of working with our veterinarian and with a gastrointestinal specialist to help address Juniper's irritable bowel issues, we have reached a point where she can go forward to a new home.  Her bowel issues have been a challenge as she would improve, then have a setback, improve again, then another setback.  After two ultrasounds, consultations with a specialist, and several food trials we found that vitamin B12 injections to be most helpful in improving her condition.  Even so, it is apparent that she will continue to have some life- long issues that will need careful management, something that not every home is prepared to deal with.
By a stroke of good luck, a local Basenji experienced couple, familiar with the condition that affects Juniper, has stepped forward to adopt her.  We can finally feel assured that Juniper has found a caring, forever home that is committed to meeting her physical and emotional needs!

---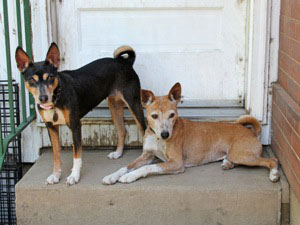 Lucky (right) Bandit (left)
Hello all Basenji lovers!
My name is Lucky.  My original owner, now deceased, gave me the name Lucky and I am sticking with it!  I do believe that soon my lucky day will arrive.  While I am waiting for my new humans to adopt me let me give you a bit of background information.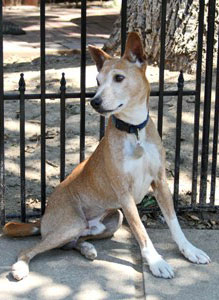 I was born on November 21st, 2005 and have lived with one owner/Basenji breeder until his untimely death.  I was a country boy and was surrounded by other Basenjis in a rural mountain setting.  After my owner's passing the whole lot of us were transferred to the care of Colorado Basenji Rescue.  Most of our pack have found homes and I am looking forward to my "lucky day"  as well.
I am a male Basenji..well, that is questionable after that surprise trip to the veterinarian recently.  Boy, that was NOT my lucky day.  I got a complete tune up, including a neuter.  Yikes!  And to add insult to injury I came home minus 13 teeth.  (I did not see a dentist on a regular basis and never flossed my canines, big mistake.)  Well, I have recovered, and I guess I will get over the indignities suffered on that day.  One must move forward.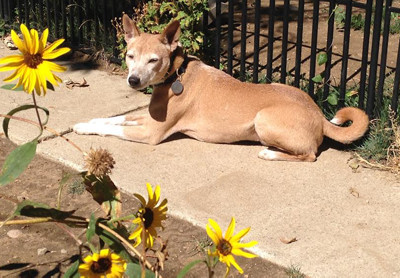 Since my transfer I have learned to sleep in a crate and to wait to do my business outside.  I will need some supervision with housetraining in a new home, however.
I have a good appetite and am very active.  I am shy at first with new people but once I can see that the new humans are not dangerous, I am fine with greeting them and being petted.  I have learned to take walks on a leash and am doing pretty well, I have been told!
My father, Spicer, is alive and well at 16 years of age, as is my mom, Miss JJ who is just one year older than I.  (Yes, mom was a child bride) Mom has been adopted and has a wonderful home in Colorado.
Well, I guess that about covers it..oh, BUT WAIT!  Did I mention that you can adopt not one, but two Basenjis?  I have a lovely companion, Bandit, with whom I share my life.  My partner in crime is a tricolor female Basenji just about my age.
You can see by her photo that she is a knock out!  Would you consider both of us????
Lucky is neutered, had a complete CBC and dental, vaccinated for rabies on January 29th 2015, strip tested negative for Fanconi, and microchipped.  He weighs 19 pounds.
Lucky would be best either adopted with his female companion, Bandit, or as the only pet.  He has not lived with cats.
The adoption fee for the pair is $275. 
A Basenji knowledgeable home with no small children is important for a successful adoption.
Bandit is spayed and will receive updated vaccinations, microchip, and dental prior to adoption.  She has been strip tested negative for Fanconi.  Her birthday is December 5, 2004.  She is similar to Lucky in personality and behaviors.  She enjoys Lucky but would likely not do well with unfamiliar dogs.  Bandit is energetic and very inquisitive.  She will need supervision and guidance in a new home.  A home with owners home at least part of the day would be best for Bandit.
Both Lucky and Bandit currently eat Fromm Gold kibble mixed with sea kelp and are fed twice daily.
Both Lucky and Bandit have come a long way in foster care and with patience in a Basenji savvy home they will thrive. For more information about Lucky and Bandit please contact Peggy at (303)455-8216 or email toinquiry@coloradobasenjirescue.org
---
Beautiful Basenji Mixes
Peanut

Hi my name is Peanut or Petey as my foster dad calls me. I'm a sweet young Basenji mix full of energy and playfulness.

At my foster home I happily live with a large dog, small dog and kitty. My crate is where I sleep but would prefer to be snuggled under the covers with you...one Basenji trait.

At 9 months old I weigh 22lbs. and because I am mixed I can bark at first until you pick me up and give a hug. After that I'll only bark at strangers sometimes.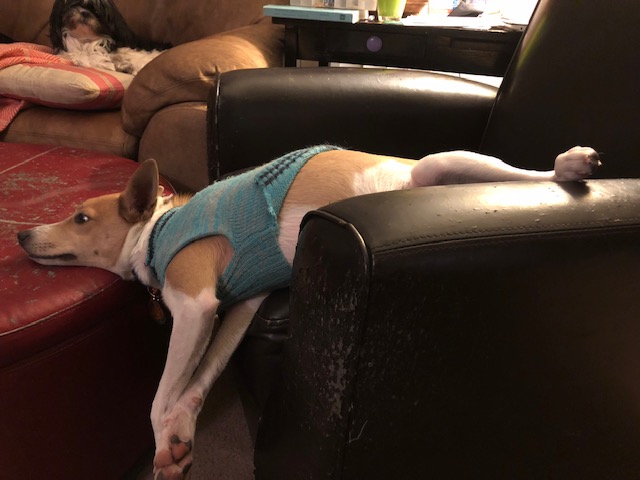 My foster mom is always laughing at my antics like fetch and tug of war. I know commands like sit and shake. My big brown eyes and smiley face can melt your heart.
Peanut was relinquished to a local animal shelter by his owners due to his high energy level and lack of training.  After transfer to Colorado Basenji Rescue he has been in the capable hands of a skilled foster volunteer who has worked with him on his social skills around animals and people.  He has come a long way in a short period of time and is now ready to find his forever home.  He has learned to play appropriately with a varity of dogs and is respectful of the dog savvy cat in his foster home.  At his young age he will be suited best to an active owner willing to continue his training.  He can climb chain link fencing, and did so in his past home, roaming the neighborhood in search of other dogs to play with.  He will need a secure yard with a tall wood privacy fence to avoid this behavior.
Peanut is housetrained and listens well to commands.  He is food motivated which helps with his continued training.
While in the shelter Peanut exhibited reactivity to other dogs and barked at strangers.  These behaviors have been significantly reduced or nearly eliminated due to the positive training in his foster home.
Peanut is current on vaccinations, neutered, heartworm tested negative and will receive a microchip prior to adoption.
There is an adoption fee of $150 for this delightful young Basenji mix.
For more information about Peanut you may contact Peggy at inquiry@coloradobasenjirescue.org or (303)455-8216
---

Barkley
UPDATE on BARKLEY!!!
Good news to report about Barkley.  He is improving in his behavior around other dogs and is able to walk pleasantly with another non dominant female dog.  He is also able to visit the dog's home and behave with respect to her space.  This improvement has taken time and work but is quite encouraging!
Hi folks!  I am Barkley and I am eagerly waiting for someone to choose me to love.  Here are my particulars for your consideration..
I am about 3 years old and spent time in a shelter with a leg injury before coming to Colorado Basenji Rescue.  My leg has healed and I am "ready to roll"!
I weigh 19 pounds and am somewhat light boned like an Italian Greyhound.  My handsome face resembles a Jack Russell or Smooth Fox Terrier.  My body has a Basenji-like appearance.  There you have it!
I am an active guy and would love to find a human to keep me busy.  A home as the only dog would be best for me as I do not know how to behave well around other dogs.  I love humans, though!  I have no physical issues and eat like a horse with no complaints.  I am kennel trained and am very good about waiting to go out to do my business.  I love to travel in the car in a wire crate..it really sooths me for some reason.
Barkley is a great little dog suited for an active owner with some prior dog experience.  He is happiest when he can get out to exercise several times daily.
If interested in more information about Barkley please contact Peggy at (303)455-8216 or inquiry@coloradobasenjirescue.org