Ruby

Hi folks!
My name is Ruby, not to brag, but officially I am called "Amazing Ruby" !  I hope that my forever home will understand that I am indeed amazing!  I am 4 years old and have had many exciting experiences in that short time.  I am now ready to settle down to a stable and loving home where I can be adored and treated like the queen of the house.
I am very affectionate and love to be petted, 24/7 if possible.  People are great, other dogs not so much.  I am meticulous about housetraining and am not overly destructive, for a Basenji, of course.  I cannot control my counter surfing desires but am otherwise very well behaved. I am crate trained, although I much prefer to sleep in bed with a human, rather than in a crate at night.  I enjoy car rides and I do well during veterinary visits.  I sound pretty amazing, right?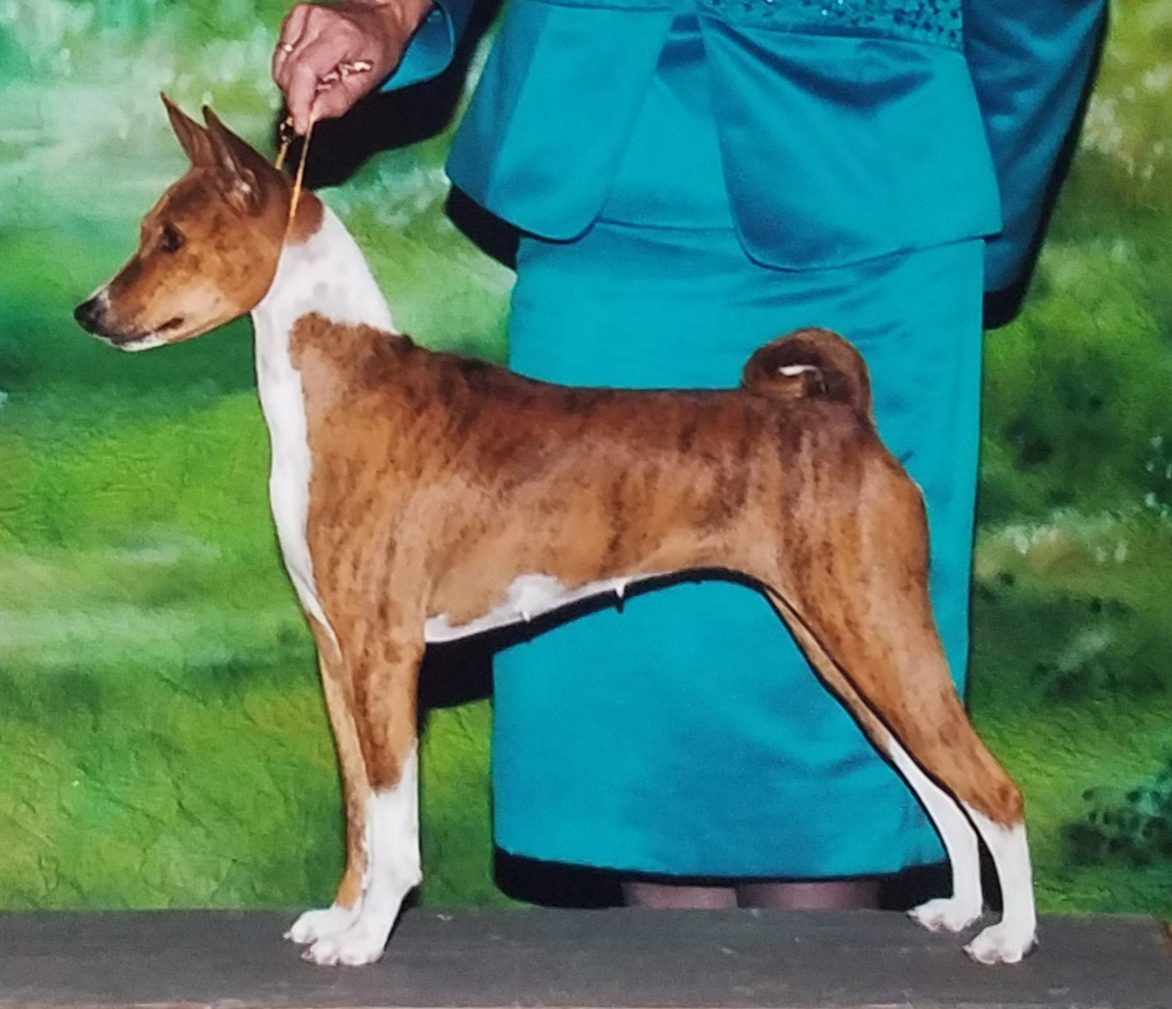 It had been determined that I do not do well left totally alone.  I am not a good candidate for an apartment situation since I can howl a bit if left alone. My wish is a home with two humans so that I have plenty of time to be loved and adored.
My leash walking skills leave a bit to be desired as I do pull strongly on a walk.  All the smells are just too exciting and I love collecting all that "data" that other animals leave behind!  I would be great at nose work, an organized activity for dogs.
Ruby's birthdate is December 19 2014  She is clear of Fanconi with the direct DNA test, also clear of hip dysplasia, PRA, and thyroid issues with OFA testing.
Ruby is spayed and current on vaccinations.  She weighs 20.6 pounds at her recent vet exam which she passed with flying colors.
For more information about Ruby you may call Peggy at (303)455-8216 or email to inquiry@coloradobasenjirescue.org
Homes with adults home at least part of the day will be considered.  Ruby needs a home as the only pet.
---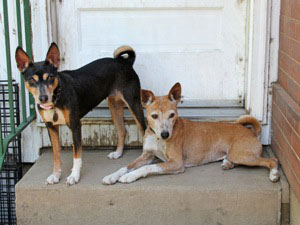 Lucky (right) Bandit (left)
Hello all Basenji lovers!
My name is Lucky.  My original owner, now deceased, gave me the name Lucky and I am sticking with it!  I do believe that soon my lucky day will arrive.  While I am waiting for my new humans to adopt me let me give you a bit of background information.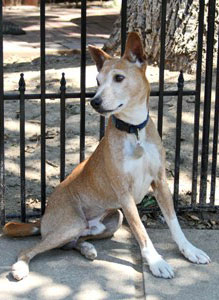 I was born on November 21st, 2005 and have lived with one owner/Basenji breeder until his untimely death.  I was a country boy and was surrounded by other Basenjis in a rural mountain setting.  After my owner's passing the whole lot of us were transferred to the care of Colorado Basenji Rescue.  Most of our pack have found homes and I am looking forward to my "lucky day"  as well.
I am a male Basenji..well, that is questionable after that surprise trip to the veterinarian recently.  Boy, that was NOT my lucky day.  I got a complete tune up, including a neuter.  Yikes!  And to add insult to injury I came home minus 13 teeth.  (I did not see a dentist on a regular basis and never flossed my canines, big mistake.)  Well, I have recovered, and I guess I will get over the indignities suffered on that day.  One must move forward.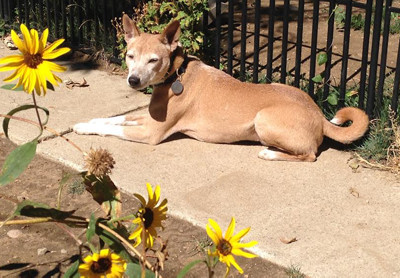 Since my transfer I have learned to sleep in a crate and to wait to do my business outside.  I will need some supervision with housetraining in a new home, however.
I have a good appetite and am very active.  I am shy at first with new people but once I can see that the new humans are not dangerous, I am fine with greeting them and being petted.  I have learned to take walks on a leash and am doing pretty well, I have been told!
My father, Spicer, is alive and well at 16 years of age, as is my mom, Miss JJ who is just one year older than I.  (Yes, mom was a child bride) Mom has been adopted and has a wonderful home in Colorado.
Well, I guess that about covers it..oh, BUT WAIT!  Did I mention that you can adopt not one, but two Basenjis?  I have a lovely companion, Bandit, with whom I share my life.  My partner in crime is a tricolor female Basenji just about my age.
You can see by her photo that she is a knock out!  Would you consider both of us????
Lucky is neutered, had a complete CBC and dental, vaccinated for rabies on January 29th 2015, strip tested negative for Fanconi, and microchipped.  He weighs 19 pounds.
Lucky would be best either adopted with his female companion, Bandit, or as the only pet.  He has not lived with cats.
The adoption fee for the pair is $275. 
A Basenji knowledgeable home with no small children is important for a successful adoption.
Bandit is spayed and will receive updated vaccinations, microchip, and dental prior to adoption.  She has been strip tested negative for Fanconi.  Her birthday is December 5, 2004.  She is similar to Lucky in personality and behaviors.  She enjoys Lucky but would likely not do well with unfamiliar dogs.  Bandit is energetic and very inquisitive.  She will need supervision and guidance in a new home.  A home with owners home at least part of the day would be best for Bandit.
Both Lucky and Bandit currently eat Fromm Gold kibble mixed with sea kelp and are fed twice daily.
Both Lucky and Bandit have come a long way in foster care and with patience in a Basenji savvy home they will thrive. For more information about Lucky and Bandit please contact Peggy at (303)455-8216 or email toinquiry@coloradobasenjirescue.org
---
Beautiful Basenji Mixes
Clay

This handsome 5 year old Boxer/Basenji is seeking a forever home where he can receive all the attention and love that he deserves.
With the arrival of a baby in the household, Clay's owners are concerned that he is not getting the attention that he needs.
Clay is quite energetic and is accustomed to a secure yard with a high fence  He plays well with other dogs and is gentle with the new baby in his current home.
He is current on vaccinations, neutered, and microchipped.  His current weight is 50 pounds.
As one can see from the photos, Clay enjoys chilling out by a warm fire, as well as sunning himself on warmer days.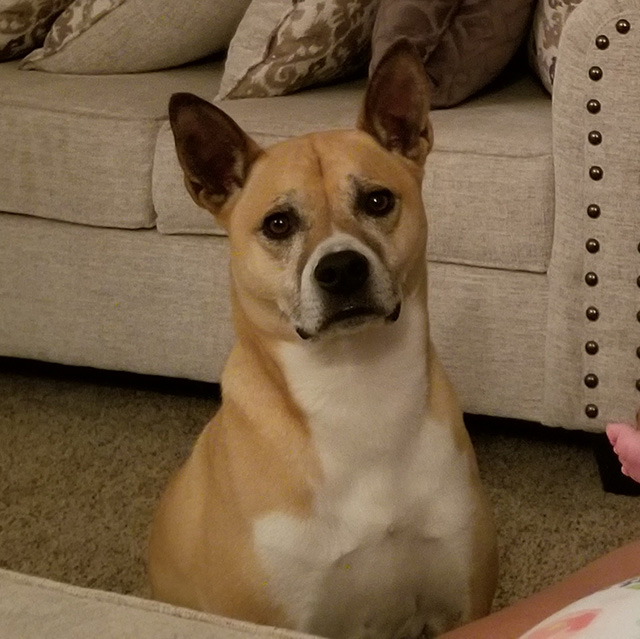 Clay's health is excellent with his only issue being some seasonal allergies.
Clay will need a home with someone home part of the day and with the ability to exercise Clay with frequent walks.
For more information about Clay you may contact Peggy at (303)455-8216 or at inquiry@coloradobasenjirescue.org
There is an adoption fee of $125 for Clay
---
Loki

Notes about Loki from his foster mom...
Loki is a sweet boy who is eager to please.  He very quickly bonds to his human and would take only a couple of days to settle in to a new home.  He has lived with other small dogs and cats and seems to get along fine.  He has no food or toy aggression but he does like to play.  He particularly likes his stuffed animals that he can grab and shake.  He does like to taunt his foster brother Peyton, who is a 20 b Cavalier, with the stuffed animals.  But Loki is always good at sharing.  Once Peyton chases him a few time, Loki always relinquishes the toy to Peyton.
Loki is super smart.  He learned how to give his paw in less that 2 days.  He also knows his other command like sit, down, stay, and go to your bed, his crate which he loves and feels safe in.  He sleeps at night in his crate but will also sleep next to your bed if you allow him.  He sleeps through the night without stirring and will wait for you to get up to let him out.  He is incredibly respectful and listens very well.  Because he is so eager to please he is easy to have around.
Loki is absolutely housebroken and would not dream of making a mess in the house.  He has learned to use a dog door but is also very good at letting his people know if he needs to go out.
Loki is 9 years old and does have his legs bowed in the back.  To ensure he keeps up his mobility, we are giving him glucosamine, Arnica Montana  and CBD Oil along with a single Gabapentin capsule daily.  It is recommended that he keep up with this regimen along with a daily walk to continue his good mobility that he currently enjoys.  
He loves to play and if you have a yard, he will gallop around and play fetch with you.  He is definitely young at heart.  He loves tug o war too and will play with you or another dog.
Loki is not a fan of thunderstorms.  If there is a storm coming you will know before it hits because he will stay by your side until the storm has passed.   Although he is not a fan of a storm, his anxiety is manageable.  He just wants to be close to you until the storm passes.  
Please contact Peggy at (303)455-8216 or inquiry@coloradobasenjirescue.org
There is an adoption fee of $100 for Loki